Restaurant Refuses to Make Pineapple Pizza With Hilarious Note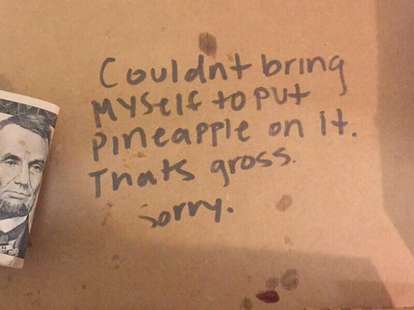 If there's one thing that divides the world, it's not politics. It's not whether you want the Patriots to win the Super Bowl. And it's not whether you choose to pee in the pool (spoiler alert: everyone pees in the pool, apparently). The most divisive issue of the modern era is clearly whether or not you think it's ok to put pineapple on pizza. Many consider it to be close to treason and if the president of Iceland had his way, it would actually be illegal.
The pineapple pizza wars have reached the next level. There's an underground resistance mounting and its first victim was Ali, aka @Try2ShootUsDown on Twitter.

On Saturday, she ordered a pizza from an on-campus restaurant at the University of Arizona in Tucson, she told Thrillist. When it arrived, it wasn't the pizza she ordered. She'd fallen victim to a group that definitely doesn't call itself Résistance aux Ananas, but should think about it. (Also, there's no group, but, like, pineapple haters should get organized.)
The employees of the unnamed restaurant decided Ali's order of a pizza with pineapple was too disgusting to make. The pizza arrived, according to Ali, with "chicken, onion, BBQ sauce, and no pineapple." As seen in the tweet above, it came with a five dollar bill taped inside the box and a note that read, "Couldn't bring myself to put pineapple on it. Thats (sic) gross. Sorry."
Ali definitely wanted the pizza she ordered, but she was good-natured about the situation. She called the shop to let them know it was funny, but she wanted a pineapple pizza. "They said they'd be happy to compensate me with coupons, but I just let it slide," she said. "The $5 was enough!"
Her story has not been verified, but one friend attests she was on FaceTime with Ali when the order arrived and saw the whole thing unfold.
Résistance aux Ananas is growing bold.
Sign up here for our daily Thrillist email, and get your fix of the best in food/drink/fun.
Dustin Nelson is a News Writer with Thrillist. He works the pineapple pizza beat with zeal. Follow him @dlukenelson.