Yes, This Restaurant Is Really Serving Tarantula Burgers For $30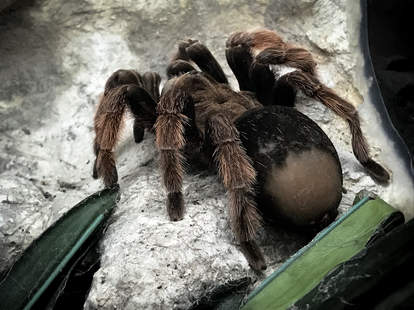 In the world of stunt foods, chefs are locked in a constant game of one-upmanship. This is especially true in fast food, with brands like Taco Bell engineering dishes so heinous you'd think they should be locked away in a dark, vaulted room. 
Humble burger stands also enter the fray on occasion, but in order to stand out amid the clutter, they might enlist the help of big ass spiders. That's what Bull City Burger in Durham, NC is doing to celebrate "Exotic Meat Month." Specifically, it's serving a tarantula on a burger. Not a fried egg, or a helping of caramelized onions. A hairy spider. The act of eating one of these monstrosities is called "The Tarantula Challenge," because finishing the burger takes grit.
Martha did it yesterday, Randall did it today, and now it's David D's turn to give it a shot!

David D. ticket # 907656 give us a call and claim your tarantula burger. 🕷️ pic.twitter.com/rZh5cvTHKB

— Bull City Burger (@BullCityBurger) April 6, 2018
The very brave souls who dare to eat this thing are in for a surprise. According to the culinary adventurers who prepared the spider burger, tarantula kind of tastes like crab. Yes, crab, the very same scuttling creatures from the ocean.
Perhaps that's just a sly attempt at marketing their burger topped with a gnarly arachnid, but then again, who are we to question them? Have you ever attempted the brazen and surely perilous Tarantula Challenge? The answer is likely a resounding no.
People say it tastes most like crab, or other shellfish, sometimes with a bit of a metallic-y taste. BUT, the legs, the body...each bite tastes a bit different. Best way to answer that question? Try one for yourself!

— Bull City Burger (@BullCityBurger) April 9, 2018
Anyway, apart from the oven roasted beast, the Tarantula Burger comes with 100% pasture-raised, North Carolina beef, Gruyére cheese and chili sauce. It's also an investment as far as burgers are concerned, running a total of $30. According to Huffington Post, four people have successfully plowed through the Tarantula Burger. There are limited quantities, because the restaurant only purchased 18 zebra tarantulas, which thankfully arrived at the restaurant dead. Anyone looking to embark on the twisted challenge has to join a waiting list.
However, if you do complete the challenge and eat the 8-legged monster, all you'll get is this shirt:
You may have heard we host a Tarantula Challenge as a part of Exotic Meat Month.
Anthony J., Ticket #907655
Dan W., Ticket #907661
Michael B., Ticket #907679
Give us a call and claim your tarantula, we've got them waiting for you. pic.twitter.com/7XyiNdndon

— Bull City Burger (@BullCityBurger) April 13, 2018
Exotic Meat Month lasts until the end of April. Then, you'll have to find your own damn spider burgers, like all the rest of us.

[h/t Huffington Post, The Takeout]
Sign up here for our daily Thrillist email and subscribe here for our YouTube channel to get your fix of the best in food/drink/fun.
 
Sam Blum is a News Staff Writer for Thrillist. He's also a martial arts and music nerd who appreciates a fine sandwich and cute dogs. Find his clips in The Guardian, Rolling Stone, The A.V. Club and Esquire. He's on Twitter @Blumnessmonster.