Everywhere You Can Order a Full Meal To-Go for Easter and Passover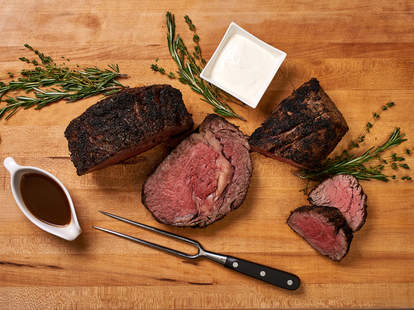 Courtesy of Ruth's Chris Steakhouse
Everyone is staying inside and we've the week with Easter and Passover. If the lack of gathering makes you less inclined to make a special meal, there are going to be options for you to still grab the essentials to get as close to your traditions as possible.
Restaurants across the country are offering special to-go options for holiday meals this week. You can order a whole spread from your favorite restaurants with a special price and curbside pickup or delivery. The options include restaurants like Outback Steakhouse, Carraba's Italian Grill, and many others. Though the majority of these are from chains and local restaurants in your area will likely have options as well.
Here are some of the best deals you're going to find for an Easter or Passover meal to-go from a restaurant.
Deals on Meals To-Go
Outback Steakhouse
The deal:
The steakhouse is bringing back some favorites that haven't been on the menu for a bit just in time for the holiday weekend. You can get Steak & Ribs or a Lobster Tail Dinner right now. You can also add a lobster tail to any entrée for $9.99.
When:
April 9-12
Buca di Beppo
The deal: It'll be offering a few different meal packages, all of which include fresh baked house bread and Chocolate Chip Cannoli. The packages start at $11 per person. The main courses include Spicy Chicken Rigatoni, Lasagna, Chicken Limone, Linguine & Clams, Shrimp Scampi, and more.
When: Through April 12
STK Steakhouse
The deal: The chain's limited-edition Easter Basket order includes a Surf & Turf Dinner for two with eight-ounce filets and lobster tails, a bottle of Justin Cabernet or Landmark Chardonnay, and a $50 gift card to be used in the future. The whole package costs $129 and can only be had on Easter.
When: April 12
Einstein Bros. Bagels
The deal: The bagel hub added a bunch of family meal boxes recently and now it's adding a Nova Lox Add-On Kit you can add to any box, like the Hot & Ready Brunch Box that includes six bagels, a tub of shmear, three egg sandwiches, four blueberry muffins, and four twice-baked hashbrowns. The Add-On Kit includes cold-smoked Nova Lox salmon, fresh sliced red onion, tomato, lemon, and capers.
When: Ongoing
The Capital Grille
The deal: The Easter dinner special feeds four to six people for $185 or two people for $95. The package comes with a bone-in filet, salad, French rolls, grilled asparagus, mashed potatoes, and apple crostata.
When: Through April 12
Carrabba's Italian Grill
The deal: The Easter family meal will cost you $49.99 and it includes Chicken Picatta or Mahi Wulfe, fresh bread, Caesar salad, penne Pomodoro, sautéed broccoli, and two Sogno di Cioccolata desserts.
When: Through April 13
Courtesy of Bob Evans
Bob Evans
The deal: The chain has a few options for Easter meals to-go. The Easter Celebration Platter comes with turkey and dressing with hickory-smoked ham steak, two sides, and dinner rolls. Larger platters are also available if you've got a larger crew to stuff with food.
When: Through April 12
Ruth's Chris Steakhouse
The deal: The steak hub is offering meals for four to six people. You get to choose between two entrées. You'll either land the Roasted Beef Tenderloin with Horseradish Cream Sauce or the Roasted Prime Rib with Au Jus and Horseradish Cream Sauce.
When: Through April 12
Fresh Brothers
The deal: The pizza shop is bringing back its Matzah Pizza with pizza options starting at $7.
When: Through April 16
Kona Grill
The deal: The Easter Basket deal is a Surf & Turf dinner for two with green beans, mashed or crispy potatoes, two half carrot cake sliders, and a bottle of wine. Additionally, you'll get a $10 gift card for use on a future trip. Though, it'll have to be used by August 31, 2020.
When: Preorder through April 12
Boston Market
The deal: You can get family and individual meals on April 12. You'll get an entrée choice of boneless honey-glazed ham, boneless roasted turkey breast, or signature rotisserie chicken with two sides, cornbread, and a slice of apple pie. The individual version costs just $13.99. The feast for three comes with a whole apple pie and costs $39.99.
When: April 12
Fogo de Chão
The deal: The Brazilian steakhouse is a meal for four. You get to pick 20-64 ounces of Filet Mignon, Ribeye, Lamb Chops, Picanha, or Atlantic Salmon.
When: Through April 12
Macaroni Grill
The deal: The "warm and enjoy" Easter Family Meal feeds four to five with your choice of Lasagna Bolognese, Penne Florentine with Chicken, Italian Meatloaf, or Braised Lamb Shank, as well as two side dishes, and dessert for $100.
When: Order by April 11 at 9pm
Dickey's Barbecue Pit
The deal: The Classic Family Pack will let you get a pound of pulled pork, a pound of brisket, barbecue beans, cabbage slaw, potato salad, six rolls, barbecue sauce, pickles, and onions.
When: Through April 12
Hawkers
The deal: Order by April 10 to get a meal for four ($75) or eight ($135) you can have over the weekend. The entrée options include Roasted Duck, Char Siu, and Chicken Curry.
When: Order by April 10
Beef 'O' Brady's
The deal: It's running an Easter Meal Deal for four that includes ham, potatoes, corn, green beans, and rolls for $40.
When: Through April 12
Famous Dave's
The deal: The meal is going to feed four to five people. It includes a pound and a half of smoked ham, a pound and a half of beef brisket, garlic red skin mashed potatoes, macaroni and cheese, and cornbread muffins for $64.99.
When: Through April 12
Local Deals on Easter/Passover Meals To Go
Davanni's - Twin Cities, Minnesota
The deal:
The pizza shop is offering Pasta Pans to-go. One that feeds three-to-six people will cost $23.19, and one that feeds eight-to-twelve costs $42.59.
When:
Through April 12
Did we miss some?
Send an email to news@thrillist.com, and we might add it here.

Sign up here for our daily Thrillist email and subscribe here for our YouTube channel to get your fix of the best in food/drink/fun.