These Restaurants Offer the World's Best Views, According to Tourists
A new analysis also named the restaurant with the best views for each country.
I'll be honest, I've never gone to a restaurant with an excellent view and expected the food to be great too. Which is fair, because sometimes the body can really only handle one overstimulating sensory experience at a time. That being said, when going to a restaurant that promises a great view that ends up overlooking a dumpster in a small alleyway I feel more disappointed than when I get an order of limp fries.
Thankfully, we have people out there who love to leave reviews, and people who will take those reviews and turn them into reliable data sets. With information like we have here from HawaiianIslands.com, you'll never need to get tricked into a parking lot sunset view again.
Here's an overview of the best views in every country, according to a new analysis of TripAdvisor reviews:
As you can see, those tourist ratings have turned into a ranking of the restaurants with the top 10 views around the world.
1. Mama's Fish House, Paia, Hawaii
2. Aqua Shard, London, United Kingdom
3. Sunset Monalisa, Cabo San Lucas, Mexico
4. Beach House Restaurant, Poipu, Kauai, Hawaii
5. The Oasis on Lake Travis, Austin, Texas
6. Mariposa Latin Inspired Grill, Sedona, Arizona
7. Latitudes, Key West, Florida
8. Duke's Waikiki, Honolulu, Hawaii
9. Spinners Rooftop Grille, St. Pete Beach, Florida
10. Rock Bar, Jimbaran, Bali
No matter where your next vacation is, you can reference the two maps below to see if you land anywhere near a restaurant knows for its stellar views. The first is an international map and the second is a map of the US.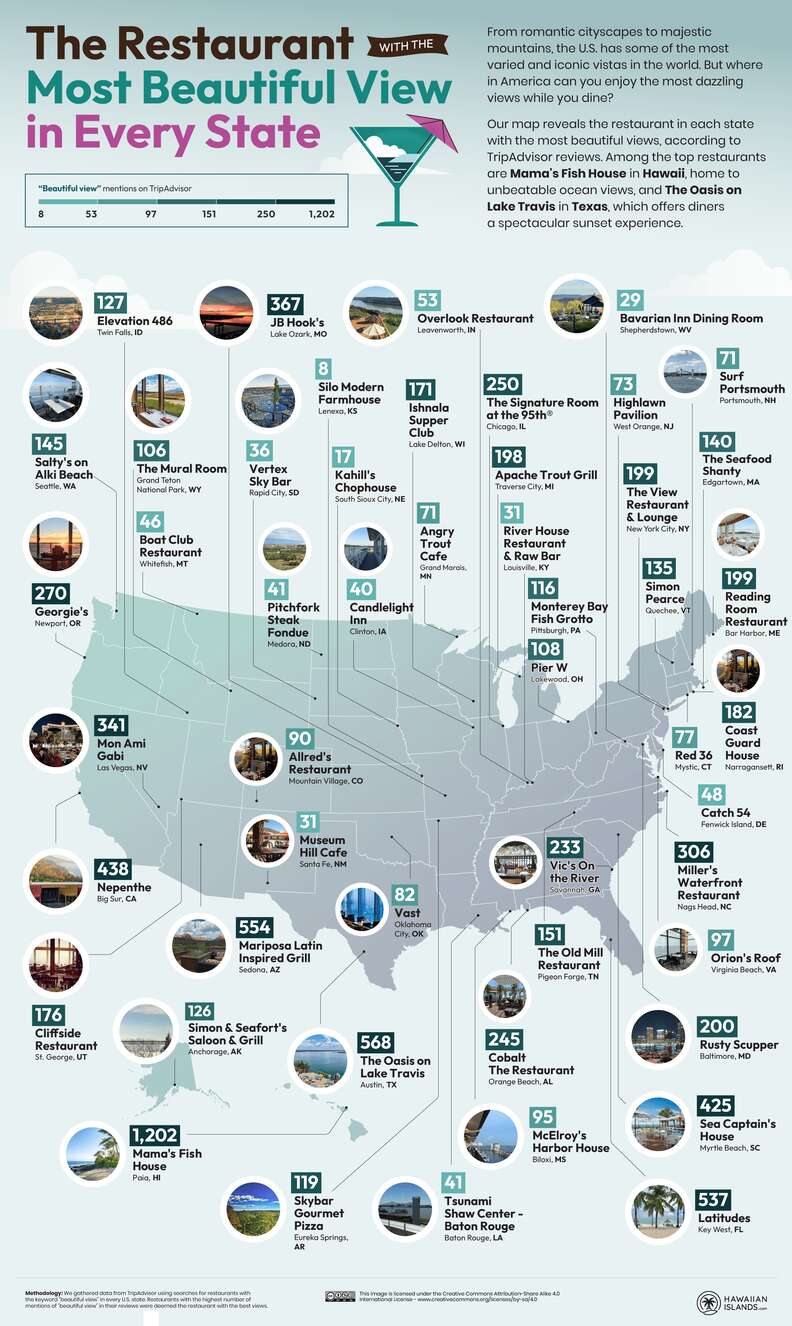 And wherever you end up eating, consider leaving a review of the view, to help all of the data collectors out there continue to give the rest of us insightful datasets like this.