Olympic Diving Duo Split Over Sex Drama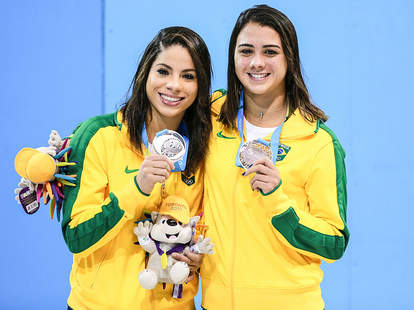 William Volcov/Brazil Photo Press/LatinContent/Getty Images
The Brazilian diving duo of Ingrid Oliveira and Giovanna Pedroso are parting ways over a "marathon sex session," according to the New York Post. The 17-year-old Pedroso says she's going solo after Oliveira, 20, kicked her out of their Olympic Village apartment so she could get some alone time with an Olympic canoeist. She wasn't allowed back into the room all night. 
The duo, who won the 10-meter synchronized diving event at the Toronto 2015 Pan Am Games, finished last in Rio. Now, Pedroso will fly solo. "After the Olympics, I will focus on my individual," she told the Brazilian paper O Globo. "It's good because I will not need to depend on anyone. Then I will be able to improve and evolve more."
The canoeist, Pedro Goncalves, declined to comment on his personal life to O Globo. 
It's no secret that there's a sexual side to the Olympics for athletes. If there wasn't, the IOC probably wouldn't need to provide 450,000 condoms for athletes. That's over 40 condoms per athlete. So, the situation probably isn't all that unique.
American target shooter Josh Lakatos had previously talked to ESPN about the Sydney games, saying things got weird in the Olympic Village when he convinced someone on the housekeeping staff to allow him to stay in his apartment after his time was up. "The next morning," he said, "swear to god, the entire women's 4x100 relay team of some Scandinavian-looking country walks out of the house, followed by boys from our side. And I'm just going, 'Holy crap, we'd watched these girls run the night before.'
"I'm running a friggin' brothel in the Olympic Village! I've never witnessed so much debauchery in my entire life."
Sign up here for our daily Thrillist email, and get your fix of the best in food/drink/fun.
Dustin Nelson is a News Writer with Thrillist. He holds a Guinness World Record, but has never met the fingernail lady. He's written for Sports Illustrated, Men's Journal, The Rumpus, and other digital wonderlands. Follow him @dlukenelson.