Rio's Collectible Olympic Beer Cups Are Now a Black Market Business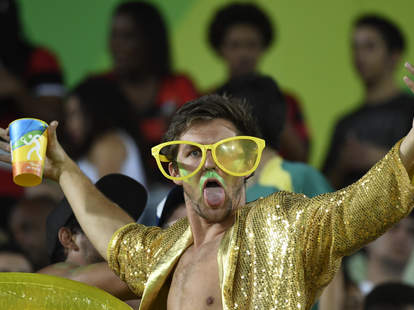 Athletes from all over the world descended on Rio to compete for international sports glory and, of course, Olympic medals.Their legions of fans in attendance at the Games, however, appear to be competing for decidedly boozier trophies out in the stands: official Rio Olympics beer cups. 
As explained in a report by the Associated Press, spectators at the Olympic venues are buying tons of beer to collect the yellow cups, which feature the Rio Games' signature swirling colors and silhouettes representing the various Olympic sport events. That's right, folks, there appears to be -- as the AP put it -- anothercupping craze taking over Rio. 
Many fans have been seen chugging or simply dumping the 17oz cups of Skol lager beer just to get back in line at the cerveja stands to pay about $4 for another -- all this amid food shortages across the venues. Other fans have resorted to trading, selling, and even stealing the cups in hopes of collecting the full set. Those seeking cups for certain sports have also been spotted sorting through the available cups at concession stands, according to the report. You likely won't find the things in waste receptacles or among the Olympic venue litter, but then again, that's a good thing.
Part of the intense demand for the cups likely has something to do with their price relative to other official Olympics merchandise. Some items, like t-shirts, can set you back anywhere from 80 to 100 Brazilian reals (about $25 to $32), or more, per the report.
So, while there unfortunately isn't a beer-drinking competition at the Summer Olympics, leave it to sports fans to find a way to be rewarded for their Olympian thirst.
Sign up here for our daily Thrillist email, and get your fix of the best in food/drink/fun.
Tony Merevick is Cities News Editor at Thrillist and actually really wants one of these things now. Send news tips to news@thrillist.com and follow him on Twitter @tonymerevick.