Wait. You Can Dive at the End of an Olympic Race?!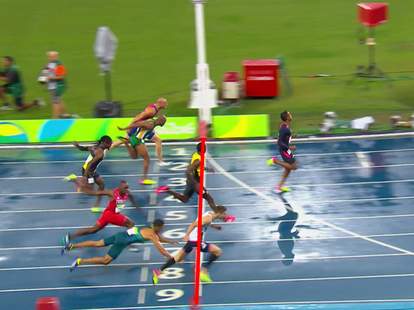 Racers generally lean into that final moment of a race as they cross the finish line, attempting to shave tenths of a second off their final time. But twice on Monday night, runners went full Premier League and dove. It serves as a good example for the casual track and field fan of why runners lean forward, because it's all about what crosses the finish line first.
The dive worked both times Monday night. The first dive happened when Brazilian hurdler Joao Vitor de Oliveira dove at the finish line, achieving a placement that allowed him to qualify for semifinals of the 110-meter hurdles. In the moment before the dive, it looked like there was no way he would qualify. He took a risk with the dive, especially since it had been raining on and off and he had to push off from a wet track. It paid off.
Shortly after that Shaunae Miller dove in the last moment of the women's 400-meter, sprawling across the finish line. It worked. She took gold over Allyson Felix by tenths of a second.
The latter of these two got some people up in arms about whether or not it's legal to dive at the end of a race. Clearly, since Miller took gold it is allowed. However, the rule is a little complicated, making diving not quite the bulletproof strategy that some are making it out to be.
A dive with good hand extension like de Oliveira's is a great example because it's not the hands that dictate when the racer officially finished. The competitor is said to have finished when their torso moves across the finish line. That's why racers lean forward at the end of a race and don't stick out their hands to break the plane.
The rule from the IAAF reads: "The athletes shall be placed in the order in which any part of their bodies (i.e. torso, as distinguished from the head, neck, arms, legs, hands or feet) reaches the vertical plane of the nearer edge of the finish line as defined above."
It's not something you see often, but as Olympic hurdler and bobsledder Lolo Jones said on Twitter, "most pro's [sic] at one point have used that tactic to win." Fans of Felix might not love it, but diving is admissible even when the sport isn't diving. It's a disappointing end for Felix, but with her seventh Olympic medal she's the most decorated female in Olympic track and field history.
Shaunae Miller's dive was to recover from falling. Sprinters know the quickest way across the line is a well timed lean. Trust me on that.

— Michael Johnson (@MJGold) August 16, 2016
NBC
Sign up here for our daily Thrillist email, and get your fix of the best in food/drink/fun.
Dustin Nelson is a News Writer with Thrillist. He holds a Guinness World Record, but has never met the fingernail lady. He's written for Sports Illustrated, Men's Journal, The Rumpus, and other digital wonderlands. Follow him @dlukenelson.