Rio Olympics 2016: Final Medal Count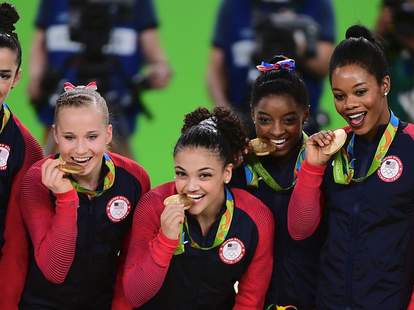 The Rio Olympics come to a close Sunday and the final medal tally is in. As expected, the United States did quite well. The U.S. team racked up the most medals overall and the most gold medals of the 2016 Summer Games, led by outstanding performances in swimming (33 medals), track and field (32 medals), and gymnastics (12 medals).
With 46 gold medals and a ridiculous 121 total medals, the U.S. far exceeded any other country in Rio. Great Britain came in second with 27 golds, followed closely by China with 26. China had the second most total medals with 70.
It was the most medals the U.S. earned since the 1984 Games in Los Angeles, though that Olympic total comes with an asterisk. At that Olympics, the U.S. won 83 golds and 174 total medals, but the Games were boycotted by the Soviet Union, East Germany, and Cuba in response to the United States boycotting the 1980 Olympics in Moscow.
Outside of Los Angeles, it's the most medals won by the U.S. since the 1904 Games in St. Louis, where they won a whopping 231 total medals.
For the host nation, it was a successful Games in competition. Brazil took seven golds, six silvers, and six bronzes. That includes three major golds, with a gold in men's soccer with a penalty-kick goal by Neymar. They also grabbed gold in men's beach volleyball and men's volleyball, as well as a silver in women's beach volleyball.
The gold in men's soccer was particularly huge and not just because of the penalty kick goal by one of the country's biggest soccer stars. The game was a rematch of the 2014 World Cup between Germany and Brazil. Germany embarrassed Brazil in that game, taking a 7-1 win. For Brazil, it wasn't just gold in Rio, it was revenge for the World Cup loss.
Get a look at the top national tallies below.
Gold Medal Count:
United States: 46
Great Britain: 27
China: 26
Russia: 19
Germany: 17
Japan: 12
France: 10
South Korea: 9
Italy, Australia, Netherlands, Hungary: 8
Total Medal Count:
United States: 121
China: 70
Great Britain: 67
Russia: 56
Germany, France: 42
Japan: 41
Australia: 29
Italy: 28
Canada: 22
Sign up here for our daily Thrillist email, and get your fix of the best in food/drink/fun.
Dustin Nelson is a News Writer with Thrillist. He holds a Guinness World Record, but has never met the fingernail lady. He's written for Sports Illustrated, Men's Journal, The Rumpus, and other digital wonderlands. Follow him @dlukenelson.