Watching the Olympics Made People Wish There Was Olympic Porn
People were devouring the Rio Olympics online. A massive number of millennials were watching the primetime coverage and people were consuming it online in record numbers. But the omnipresence of the Olympics proved not to be quite enough for many. Lovers of sport also turned to the porn site Pornhub.com to find a different kind of Olympic coverage.
Not only was there above average porn traffic at the site in Rio due to an influx of athletes, fans, and journalists — peaking out at 15 percent above the city's average, according to figures from Pornhub — browsers back home were digging for Olympic-related content as well.
Pornhub
Pornhub searches containing the word "Rio" began rising as soon as the Olympics opened, climaxing on Day 3 with a 519 percent search increase over average. That's a trend that was seen across the board with any search term that's even vaguely Olympics-related.
Pornhub
For instance, searches with the term "Olympics" or "Olympians" saw a massive increase that topped out at 3,916 percent above average. Users weren't all that creative with their use of the term, though. The top "Olympic" search was "nude Olympics" and the third most searched "Olympic" phrase was "sex Olympics."
Pretty on the nose, but if you know what you're looking for...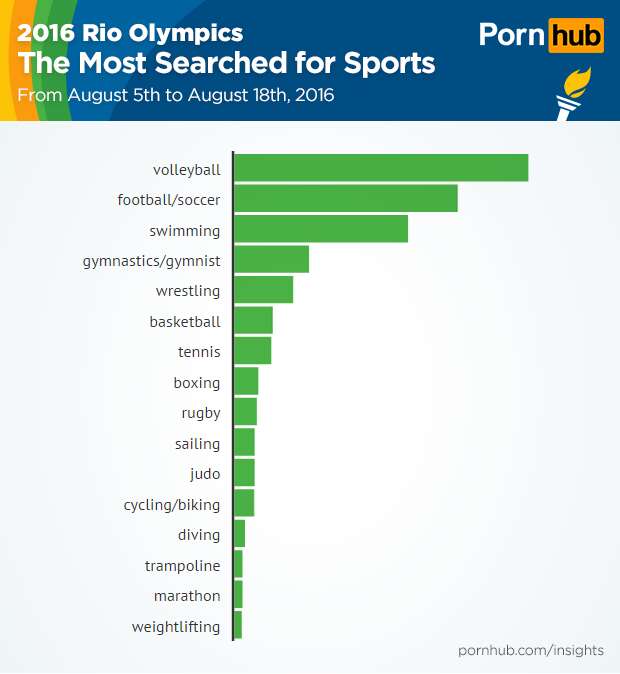 Pornhub
The same thing was seen with variations on the term "athlete," which peaked 618 percent above average during the Games.
That was also seen with individual sports. Volleyball topped the list of Olympic-related sporting interest. Soccer came next, followed by swimming, and gymnastics. Not an entirely surprising run there, as those are some of the most popular sports at the Games. Marathon's appearance in there is maybe the most surprising of those Olympic sports, but every sport gets its day in the sun.
However, some off-topic uses of the term "marathon" may have had something to do with its popularity. It peaked at 689 percent of usual search traffic, with its second highest traffic day being the actual day of the marathon. But the most common search term was "sex marathon" and the third most-searched term was "masturbation marathon." So, marathon's popularity on Pornhub may not have had that much to do with running.
A few of the other notable search terms ranking in the top three of their respective sport were "gymnist" (spelled just like that) and "judo footjob," which sounds potentially unpleasant. Like with Game of Thrones and St. Patrick's Day, the Olympics serves as a lovely reminder that nothing can stop people from watching porn, but basically any cultural moment can influence what's being watching.
Sign up here for our daily Thrillist email, and get your fix of the best in food/drink/fun.
Dustin Nelson is a News Writer with Thrillist. He holds a Guinness World Record, but has never met the fingernail lady. He's written for Sports Illustrated, Men's Journal, The Rumpus, and other digital wonderlands. Follow him @dlukenelson.