U.S. Won Gold Every Day of the Summer Olympics From 2008 up to Monday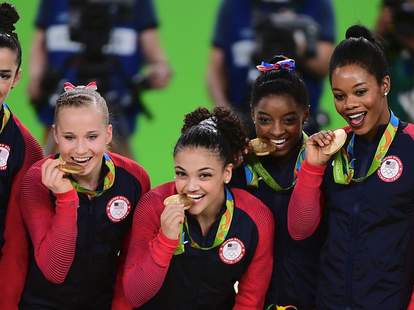 EMMANUEL DUNAND/AFP/Getty Images
It was first highlighted by NBC's Nick Zaccardi on Twitter, but the United States has been incredibly dominant in the Summer Olympics. So much so that it was very notable that the U.S. went without a gold medal on Monday, Day 10 of the Rio Olympics. That gold-less day broke a streak of 29 straight days of Summer Olympic gold medals.
That's a streak that tracks all the way back to the 2008 Beijing Olympics. With 16 days in each Olympics, the streak contains nine days of Rio, all 16 days of London, and the last four days of the Beijing Games. And the streak was centimeters from continuing. Allyson Felix was incredibly close to winning Monday's women's 400-meter, but a last second dive by Shaunae Miller put Felix in second.
The U.S. has been dominant so far at Rio, leading all countries with 84 medals as of Tuesday night. Second place goes to China with 51. The U.S. also leads in gold medals with 28. The closest to that mark is Great Britain's 19.
It was similar in 2012 when the U.S. led all countries with 103 total medals and 46 golds. China had second place in both categories that year with 88 and 38, respectively. In 2008 the U.S. had the most total medals with 110 to China's 100, but China had 51 golds to the U.S.'s 36.
The streak was broken Monday, but it's not a sign of the U.S. slipping so much as an incredible indication of how well the country has done in the last three Olympics. With Christian Taylor (men's triple jump) and Simon Biles (women's floor) winning gold Tuesday, the streak starts again. Current tally: one.
Sign up here for our daily Thrillist email, and get your fix of the best in food/drink/fun.
Dustin Nelson is a News Writer with Thrillist. He hasn't even remembered to eat every day since 2008. Follow him @dlukenelson.