Human Cheetah Usain Bolt Sets Record, Retains Title of Fastest Man Alive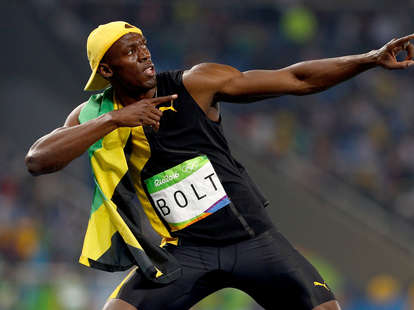 The title of Fastest Man Alive has been held by world-record holder Usain Bolt, who grabbed his third straight gold medal in the men's 100m. That's something no one has ever done in the 100m. In fact, the only other person to have three medals of any kind is American Justin Gatlin, who took silver on Sunday.
"I expected better, to tell you the truth," Bolt told NBC after the race. His time of 9.81 was the slowest of his three gold medal races. But he's still a superhuman who probably shouldn't be as fast as he is.
Bolt has suggested this will be his final Olympic appearance, with retirement to come after next year's world championship in London. He will turn 30 at the end of the month. It's an age when most sprinters start to decline. But Bolt isn't most sprinters. He could be back. In the semifinals, he smiled through the race's finale (see the soon-to-be iconic photo below) and won his heat without even looking like he was trying.
Bolt will next race in the men's 200m, where he could also win his third straight gold medal in that event. He will then compete in the men's 4x100 relay. If he wins gold in both he will have nine total gold medals, tying him with Paavo Nurmi and Carl Lewis for the most gold medals for any athlete in track and field.
Overall, with six racers at 9.96 or faster, it was the fastest 100m field in history. Watch the complete race at NBC's website.
Also worth a look is former Olympian Donovan Bailey's reaction to Canada's Andre DeGrasse taking home the bronze medal.
Sign up here for our daily Thrillist email, and get your fix of the best in food/drink/fun.
Dustin Nelson is a News Writer with Thrillist. He holds a Guinness World Record, but has never met the fingernail lady. He's written for Sports Illustrated, Men's Journal, The Rumpus, and other digital wonderlands. Follow him @dlukenelson.