Here's Why Michael Phelps Kept Laughing During the National Anthem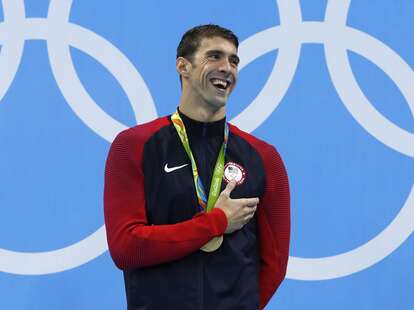 Getty Images
Getty Images
Michael Phelps earned his 20th and 21st gold medals on Tuesday night in Rio, soaring to victory in the men's 200-meter butterfly and men's 4 x 200-meter freestyle relay events. But as he stood during the national anthem to receive the first of the two medals, you may have seen him do something peculiar: burst out laughing.
As you can see in this clip on YouTube, Phelps appears to fight back tears as he stands at the center of the Olympics podium after his win in the butterfly race, when suddenly, he looks to his left and cracks up. And later, at the end of the song, he laughs again and points into the crowd at something off-camera. So, uh, what the hell was so funny?
Well, apparently, it had something to do with his hometown of Baltimore. Here's what he told NBC in an interview shortly after winning his second gold medal of the night in the 4 x 200-meter freestyle relay, according to a report by Sports Illustrated:
"My boys from Baltimore were down on the other end, and back in Maryland, we all say 'O!' for the Orioles during that part of the National Anthem. And all of the sudden I hear them roar 'O!' and I knew exactly where I came from, and I just lost it because those guys came down from Baltimore and New York City to be here, and it's just special to see those guys in the stands."
Nothing like celebrating Olympic glory halfway across the world with a hilarious hometown tradition.
Sign up here for our daily Thrillist email, and get your fix of the best in food/drink/fun.
Tony Merevick is Cities News Editor at Thrillist and was wondering about this when he watched the broadcast last night. Send news tips to news@thrillist.com and follow him on Twitter @tonymerevick.