Rome Spent $57,000 on This Miserable, 'Toilet Brush' of a Christmas Tree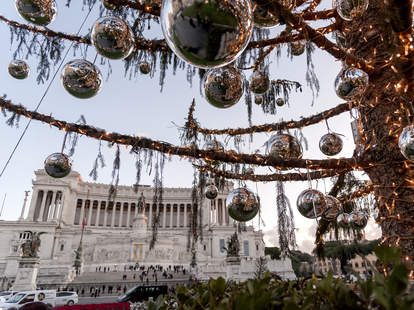 Getty Images/Corbis News/Stefano Montesi - Corbis/Contributor
During the holidays, big vibrant cities usually play host to large and grandiose Christmas trees. There's the famous tree at Lincoln Center in New York. There's the big, glowing orb of a Norway Spruce at Chicago's Millennium Park, and the imposing tree jutting upwards at London's Traflagar square. 
Then there's Rome. The Italian capital has in recent weeks been dragged through muck and mire on Twitter for its Christmas tree, which hasn't lived up to the city's legendary stature. The tree, which reportedly cost the city $57,000 to transport to the Piazza Venezia, is a balding network of pines and brittle branches. (It's been nicknamed "Spelacchio," which translates to "mangey" in Italian). And it's also been described as a "toilet brush" by one disappointed Roman who spoke to The New York Times. 
Despite being festooned with ornaments, the tree looks like it wants nothing to do with Christmas. It would rather take a nap than open presents.
Many have pointed out that the tree isn't just suffering from a case of a premature baldness, because it's actually dead (as in it actually looks dead; all Christmas trees are technically dead). This means its a zombie masquerading as a Christmas mascot -- a first in the long history of major cities and their holiday celebrations. Congratulaziones Roma! 
The symbol of an endless Rome decadence. "SPELACCHIO", the frail and shabby Christmas Tree of the Eternal City recently set in Piazza Venezia, has sadly died just after a couple of weeks. #italy pic.twitter.com/DtXiaEoMT4

— Antonello Guerrera (@antoguerrera) December 19, 2017
The tree even has its own Twitter account with over 5,000 followers. Naturally, people are cyberbullying the poor spruce. 
Long live Spelacchio, may we forever remember your Christmas misery. 
 
Sign up here for our daily Thrillist email and subscribe here for our YouTube channel to get your fix of the best in food/drink/fun.
 
Sam Blum is a News Staff Writer for Thrillist. He's also a martial arts and music nerd who appreciates a fine sandwich and cute dogs. Find his clips in The Guardian, Rolling Stone, The A.V. Club and Esquire. He's on Twitter @Blumnessmonster.