This Company Will Pay You $10K to Travel to France and Drink Tons of Rosé
You have a lot of good reasons to embrace the "rosé all day" ethos during the summertime...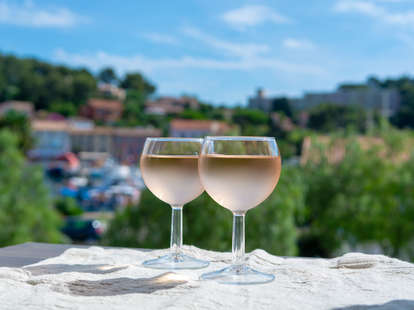 Shutterstock
Shutterstock
You have a lot of good reasons to embrace the "rosé all day" ethos in the summertime. For one, it's the perfect time of year to drink rosé, well, all day, and it's also a good way to guarantee you'll be napping regularly. But what if your rosé obsession could also tee you up for a chance at earning $10,000 and a free trip to France? Well, now it can thanks to this glorious new dream job centered around everyone's favorite pink wine.
The team behind the Rosé All Day brand is currently on the hunt for a new influencer to join its ranks, and is hosting an open casting call for any and all rosé-lovers on Instagram. If the title alone isn't enough to sway you to throw your hat in the ring, the fact that it comes with a $10,000 payday and a free rosé-fueled trip to France probably will. The winner will be flown out for an all-expenses-paid stay at the brand's chateau in the Languedoc region of France for four nights, where they'll be tasked with creating all sorts of rosé-themed content for RAD's Instagram account.
The gig will also involve contributing at least once Instagram post for the brand every month for a year, though you're free to tag your own personal account in them as well (gotta get those sweet, sweet follows).
Any US resident over the age of 21 is welcome to enter, but it probably goes without saying that you should have at least an appreciation for rosé, if not a straight-up obsession. Specifically, they're looking for someone "who can synergize their already rosé-filled lifestyle to translate to gorgeous content." To enter, you need to first follow the official RAD Instagram account, then start posting your own #roseallday content with RAD tagged in it. The contest will launch on June 8 and runs through September 2, and you're free to post as many "entries" during that time period as you'd like.
After September 2, the RAD folks will sort through all the entries on Instagram and select five finalists, who'll then be asked to create one more image each. Whoever the judges deem to have made the best one of those, wins.
So, basically, you kind of have to drink a lot of rosé this summer (and snap photos of yourself doing it). There's money and a free vacation on the line!
Sign up here for our daily Thrillist email and subscribe here for our YouTube channel to get your fix of the best in food/drink/fun.