Russell Crowe Is Pissed His Hoverboard Can't Go on a Plane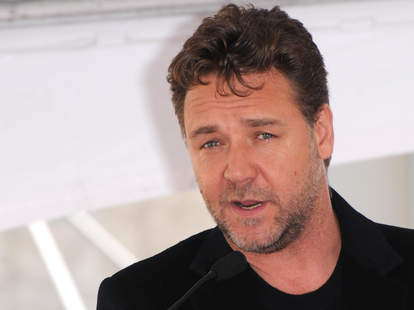 <a href="http://www.shutterstock.com/gallery-842284p1.html?cr=00&amp;pl=edit-00">s_bukley</a> / <a href="http://www.shutterstock.com/editorial?cr=00&amp;pl=edit-00">Shutterstock.com</a>
Among the many things in Australia trying to kill you, Russell Crowe might be the deadliest... certainly the angriest, given his history of throwing phones. But you'd never expect the guy to be carrying a potentially explosive device on to an airplace. And, well, he didn't think he had one, either, much to his dismay.
Yesterday, the Australian actor tweeted his frustration after Virgin Australia crew informed him his children wouldn't be allowed to take their hoverboards on their flight.

Ridiculous @VirginAustralia. No Segway boards as luggage? Too late to tell us at airport.Kids and I offloaded. Goodbye Virgin. Never again.

— Russell Crowe (@russellcrowe) December 29, 2015
Now, while tweets are certainly more constructive than, say, throwing phones, Crowe's frustration stems from him simply not keeping up with the news. In fact, the recently popular, two-wheeled transport has been deemed illegal in New York City, and has been banned in both carry-on and stowed luggage by virtually every major airline because they pose a fire hazard. Reports of hoverboards' batteries catching fire have populated the news as they've become more popular, and well, that's just about the last thing you'd want on a metal tube in the sky.
Virgin Australia promptly replied in a series of tweets to Crowe.

@russellcrowe Hi Russell, due to safety concerns over the lithium ion batteries in hoverboards, these have been banned on all major... 1/3

— Virgin Australia (@VirginAustralia) December 29, 2015
@russellcrowe ...Australian airlines and many around the world. We're sorry you were not aware of this prior to check-in today. We... 2/3

— Virgin Australia (@VirginAustralia) December 29, 2015

Needless to say, the Academy Award winner was not satisfied.

.@VirginAustralia I'm awaiting your reply, where is your duty of responsibility in this? Why not tell me when I am booking my ticket?

— Russell Crowe (@russellcrowe) December 29, 2015
Interesting to note Crowe knows Twitter well enough to make his reply public by putting a period first. In any case, it's all much ado about nothing. Virgin Australia lost a customer, Crowe vented his frustration, and nobody got hurt. Except everybody who got hoverboards for Christmas. They're probably gonna have bruises.

Sign up here for our daily Thrillist email, and get your fix of the best in food/drink/fun.
Ryan Craggs is Thrillist's Senior News Editor. He has no interest in riding a hoverboard. But he is interested in flying to Australia. Follow him @ryanrcraggs.