Woman's Unique 100th Birthday Wish Lands Her in Jail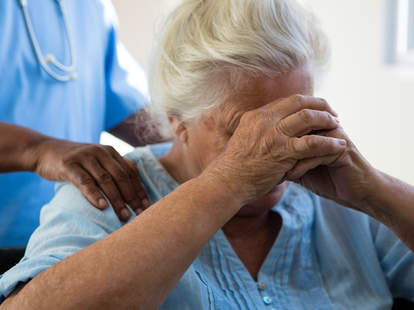 Has it ever occurred to you that older women bopping around assisted living centers have bigger plans than spending the rest of their days in wise and gentle innocence? If not, the arrest of 100-year-old Ruth Bryant will certainly change your perception of the bunch.
Bryant was taken into custody at the Cambridge Hills Assisted Living Center in North Carolina on Thursday, according to local news outlet WRAL. She was celebrating her centennial when a Person County deputy entered the establishment and asked "Are you miss Bryant?" 
"It all depends on what you want!" Bryant replied with spunk. She was prepared for this arrest, an arrest she herself had asked for. It was on her bucket list.
"Here's what I want. I want you!" the officer said. It was a hilarious joke, but Bryant's family and friends were mostly shocked to see her get handcuffed to a walker and escorted to a police car. Bryant's daughter Marian Oakley told WRAL she "didn't know they'd be going this far" with the gag, but followed along as her mother was placed in jail for approximately three minutes and was given an orange prison suit for the road.
"I'm in the jail-house now! I finally got here!" Bryant said, before returning to the assisted living home, where it was certain that no other resident who witnessed the spectacle would ever mess with her again.
Sign up here for our daily Thrillist email and subscribe here for our YouTube channel to get your fix of the best in food/drink/fun.