This Steakhouse's Promotion Backfired and Is Gonna Cost Them A Shitload of Money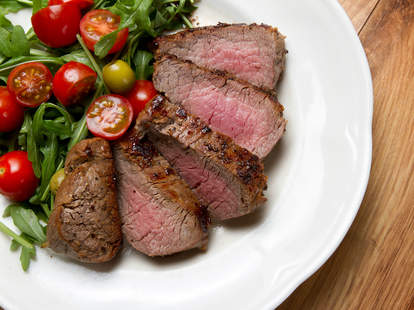 Given how football-crazy Americans are, small businesses often tie in promotions with local teams' big games. Ruth's Chris Steakhouse, in Ann Arbor, Michigan, is no exception, serving up an offer to match a percentage discount matching the University of Michigan's margin of victory this weekend. Michigan beats Rutgers by 10, you get 10% off your bill. Etc, etc.
Michigan won 78-0.
Behind the fold on Facebook, the fine print excluded a whole bunch of stuff, including booze, and an update on the original post capped the discount at 50%. Plenty of Facebook commenters aired their grievances in the comments, but let's be real: they're Facebook commenters. Also, 50% is still a helluva discount.
Needless to say, the restaurant's phones were ringing off the hook as soon as the game ended, and as Philly.com points out, the restaurant was entirely booked out through Thursday, the last day of the promotion.
Now's a great time to eat college football and cheer on your favorite steak. Or something like that. It's definitely not a great time to be in charge of Ruth's Chris -- although before today, most nobody probably knew this place existed.
There's no such thing as bad publicity, right?
Sign up here for our daily Thrillist email, and get your fix of the best in food/drink/fun.
Ryan Craggs is Thrillist's Senior News Editor. He hopes Ruth's Chris offers the same promotion vs. Ohio State and Michigan fans have to pay an extra 30% on their bills. Follow him @ryanrcraggs.