This Map Reveals the Safest States to Live in the U.S.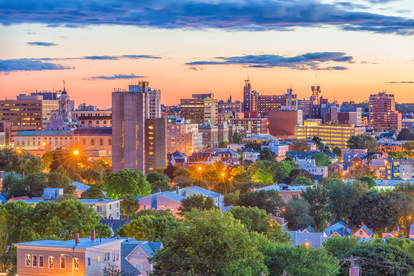 A great food scene or incredibly cheap housing may be plenty to woo some people to a new state, but the reality is that the overall safety of a place should be the first thing you consider before making a big move anywhere. It's a basic need, after all, and in this crazy dangerous world, knowing you're living in one of the more tranquil and peaceful spots in the country counts as a pretty big win. So, how does each state rank this year? The folks at WalletHub crunched the numbers, and just released a map revealing which states are the safest in 2018.
To figure out where residents are statistically safest, the WalletHub team took a holistic approach by looking at a whopping 48 different "key safety indicators" in five different categories, including personal and residential safety, financial safety, road safety, workplace safety, and emergency preparedness. Specifically, they weighed metrics like number of mass shootings and assaults per capita, poverty and unemployment rates, DUIs per capita, and number of major climate disasters. Then, they tallied the data to determine the rankings. 
This year, Vermont and Maine took the number one and two spots, respectively, as they have in the past two years, while Mississippi is statistically the least safe, followed by Louisiana. If you're curious where your state landed on the list, here's how the full rankings stack up.
50. Mississippi
49. Louisiana
48. Oklahoma
47. Texas
46. Florida
45. Arkansas
44. Alabama
43. Missouri
42. Alaska
41. South Carolina
40. Montana
39. Tennessee
38. South Dakota
37. Georgia
36. Kansas
35. Illinois
34. Michigan
33. New Mexico
32. California
31. Kentucky
30. Ohio
29. Nevada
28. Pennsylvania
27. Idaho
26. West Virginia
25. Nebraska
24. Colorado
23. New York
22. Arizona
21. Wyoming
20. North Dakota
19. Virginia
18. New Jersey
17. North Carolina
16. Maryland
15. Delaware
14. Indiana
13. Oregon
12. Wisconsin
11. Iowa
10. Washington
9. Massachusetts
8. Hawaii
7. Rhode Island
6. Connecticut
5. New Hampshire
4. Utah
3. Minnesota
2. Maine
1. Vermont
Besides the ranking itself, WalletHub also plucked some interesting statistics comparing states on particular safety issues. For instance, Massachusetts has the fewest fatalities per 100 million vehicle miles traveled, while South Carolina has the most. Also, Alaska is the state with the most assaults per capita (Maine has the least), and Alaska and Wyoming are tied for having the most fatal occupation injuries per total workers (Connecticut has the fewest). Also, interestingly, Idaho has the highest bullying incidence rate, while Florida has the lowest. 
Obviously, there's no guaranteeing that any place is going to keep you safe all the time, but if you're in search of a new place where things are most likely to remain free from harm, you may want to start poking around New England. The word is it has a lot else going for it, too.
Sign up here for our daily Thrillist email and subscribe here for our YouTube channel to get your fix of the best in food/drink/fun.