A California High School Just Made Millions off Snapchat
Plenty of people in the finance and tech world got excited about Snap Inc.'s IPO this week, though the students and faculty at Saint Francis High School in Mountain View, California have good reason to be pretty pumped about it as well, because their school's whim of an investment in the Silicon Valley unicorn just netted it many, many millions of dollars.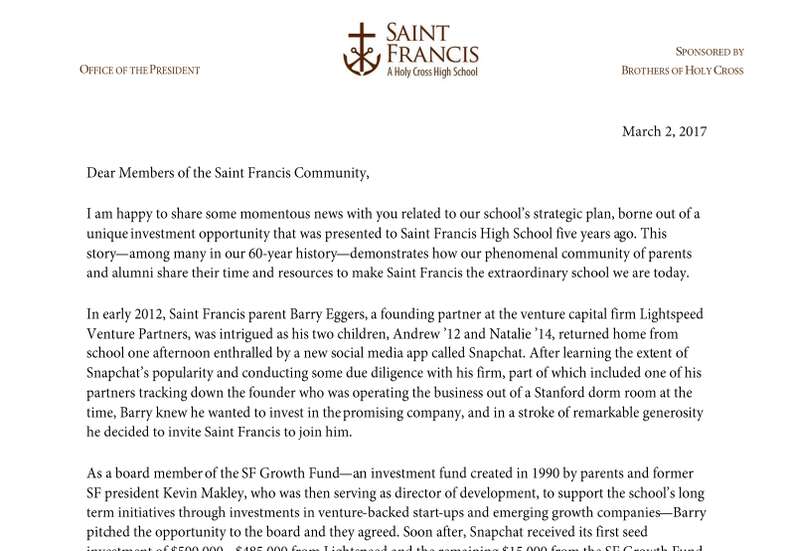 In a letter to parents on Thursday, the school's president Simon Chiu wrote to share the "momentous news" that a small investment the school made in the nascent social media company back in 2012 had matured into a heap of money.
You may be wondering what business a high school has in dropping any of its cash into a random startup. Well, for starters, it's an elite private Catholic school where annual tuition is $17,000, and it's in the heart of Silicon Valley -- meaning many of its students' parents work in the tech industry. Back in 2012, one such parent who worked at the venture capital firm Lightspeed noticed that his kids were obsessed with this new app called Snapchat, and convinced his partners to invest. He also convinced the kids' school -- Saint Francis High -- to kick in a bit from its development fund, which had been established back in the '90s. With the $15,000 from the school and $485,000 from Lightspeed, Snapchat received $500,000 in its first ever round of investment. Flash-forward five years, and Snap, Inc. is valued at $34 billion, and now a publicly traded company.
It's unclear exactly how much the school will make off its modest investment in the long run, but at the opening of trading on Thursday, the BBC reports that it sold about two-thirds of its shares -- at $17 apiece -- which netted it a cool $24 million. As of this writing, the stock price is up around $27, so things are still looking good. As for what the school plans to do with the unexpected surge of cash, President Chiu's letter proclaims it will be put toward making the school "more affordable and accessible to [the] community, recruit and retain outstanding faculty and staff, and develop innovative programs and facilities."
Maybe a pizza party first, though?
Sign up here for our daily Thrillist email, and get your fix of the best in food/drink/fun.
Joe McGauley is senior writer for Thrillist. Follow him to more surprise multi-million dollar infusions @jwmcgauley.