This Map Reveals How Much You Need to Earn to Buy a House in Every Major City
Even if you've squirreled away a nice little nest egg in hopes of buying a house some day, browsing real estate listings is enough to send you into a cold sweat...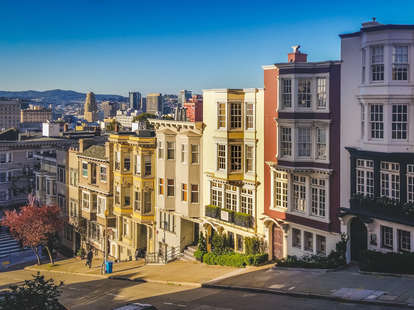 Even if you've squirreled away a nice little nest egg in hopes of buying a house some day, browsing real estate listings can quickly send you into a cold sweat. That's particularly true if you're a millennial whose earning potential has been stunted by the financial crisis. Still, it's good to know just how much you need to be raking in each year to make it happen, which is where this enlightening new map comes in.
Assembled by the intrepid folks at cost information site HowMuch, this new map reveals just how much you need to earn annually in the 50 largest US cities to be able to afford a home there. It's a clear-cut, if not intimidating, assessment of just how the real estate markets vary wildly from place to place, based on a glut of data from the mortgage info site HSH Associates. Specifically, this intel is based on analysis of median-home price data from the National Association of Realtors, national mortgage rate stats from Freddie Mac and the Mortgage Bankers Association of America, and property tax and homeowners insurance rates. To figure everything out, the number-crunchers assumed buyers would make a 20% down payment.
Coming as a shock to no one, two big Silicon Valley cities -- San Jose and San Francisco -- top the list as the priciest, where you'll need to earn the most to reasonably afford your own place. Following closely behind are San Diego and Los Angeles, while Boston rounds out the top five cities where you'll need to make the highest salary to purchase something. On the flip side, Pittsburgh is the most affordable city, followed by Cleveland, Oklahoma City, Memphis, and Indianapolis.
Here's the full list of 50 cities, ranked from lowest to highest required earnings to purchase a median-sized house there.
50. Pittsburgh: $37,659.86
49. Cleveland: $40,437.72
48. Oklahoma City: $41,335.41
47. Memphis: $41,400.93
46. Indianapolis: $42,288.92
45. Louisville: $42,323.15
44. Cincinnati: $43,429.97
43. St. Louis: $44,215.56
42. Birmingham: $44,593.35
41. Buffalo: $45,698.05
40. Detroit: $46,802.89
39. New Orleans: $49,015.08
38. Kansas City: $49,516.98
37. Atlanta: $49,840.16
36. Columbus: $49,910.55
35. Virginia Beach: $51,945.53
34. Charlotte: $52,555.63
33. Tampa: $55,104.27
32. Richmond: $56,562.92
31. Nashville: $57,463.36
30. Phoenix: $57,575.01
29. Jacksonville: $57,708.92
28. Philadelphia: $58,894.00
27. San Antonio: $59,315.21
26. Milwaukee:$ 61,066.27
25. Raleigh: $61,289.26
24. Orlando: $61,456.04
23. Las Vegas: $61,690.28
22. Houston: $62,396.25
21. Minneapolis: $64,134.21
20. Hartford: $65,255.37
19. Dallas: $65,882.49
18. Chicago: $66,018.14
17. Baltimore: $66,445.35
16. Salt Lake City: $70,920.97
15. Providence: $74,430.80
14. Riverside/San Bernardino: $78,531.85
13. Austin: $79,688.61
12. Miami: $79,712.22
11. Sacramento: $81,030.42
10. Portland: $85,173.08
9. Denver: $91,672.45
8. Washington, DC: $94,408.70
7. Seattle: $105,367.89
6. New York City: $105,684.33
5. Boston: $106,789.93
4. Los Angeles: $123,156.01
3. San Diego: $131,640.79
2. San Francisco: $198,978.01
1. San Jose: $254,835.73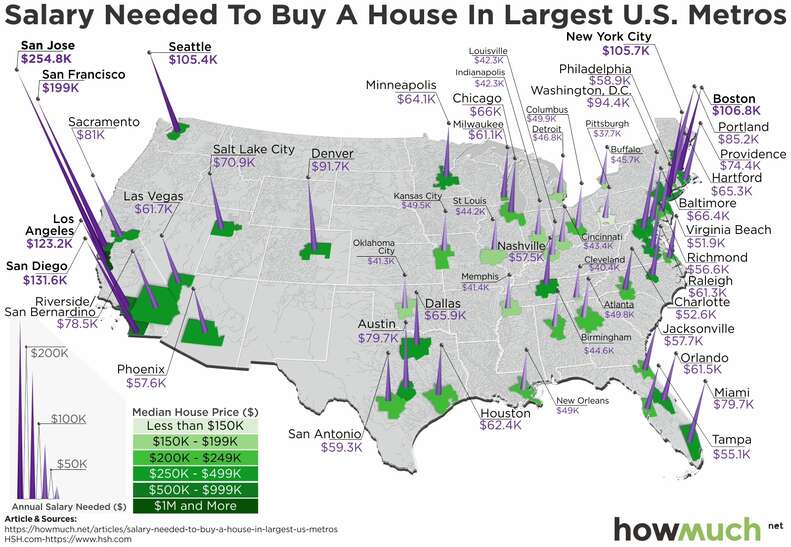 Although you need to earn at least six figures to comfortably afford a median priced home in many of the most popular cities on the East and West coasts, elsewhere it's much less daunting. In fact, if you take the average of the earnings needed to afford a place nationally, it's a (relatively) low $61,453.51 per year.
Of course, it's one thing to know you can feasibly buy your own place in a city like Pittsburgh or Cleveland, but moving there just do so when you're pretty settled somewhere like New York City or Los Angeles may not be that enticing.
But then again, you could always ditch the US altogether and head to Italy, where houses are up for grabs for just a few bucks.

Sign up here for our daily Thrillist email and subscribe here for our YouTube channel to get your fix of the best in food/drink/fun.