Salt Bae Is Officially Starting His Own Burger Chain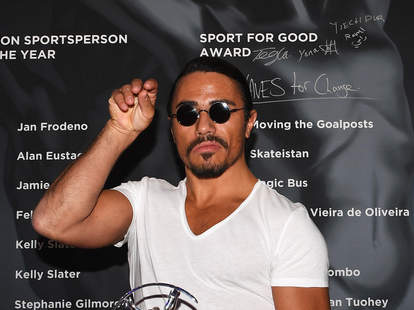 Getty Images/Getty Images Sport/Stuart C. Wilson/Stringer
Internet sensation Salt Bae's first American restaurant, a Turkish steakhouse called Nusr-et, is now a few weeks old, and there's been some pushback against high prices that many see as a mere toll paid to see a meme IRL. But Nusret Gökçe, dread god of seasoning and master of Instagram, insists he's here to stay and is serious about making Salt Bae an institution.
In what appears to be the next part of this, Mr. Bae is now planning to open his very own burger chain, which will naturally be called Salt Bae, according to a report by The New York Post. His restaurant empire has already signed a lease in Los Angeles and is also looking for a space in Manhattan's SoHo neighborhood. The LA spot, which is set to open next fall, will have a full liquor license and 4,000 square feet of space for you to 'Gram your well-seasoned cheeseburger into postmodern hyperspace.
Early reports say that Salt Bae (the restaurant) will be moderately priced, with table service and a counter for takeout.
"Multiple locations in Manhattan and Brooklyn are next," Yavuz Pehlivanlar, executive vice president of Dogus, a Turkish conglomerate that's funding Mr. Bae's ventures, told the paper.
For now we'll have to wait for more information, but in the meantime, maybe just watch the original video and reflect on how we got into this saline mess to begin with.
Sign up here for our daily Thrillist email and subscribe here for our YouTube channel to get your fix of the best in food/drink/fun.