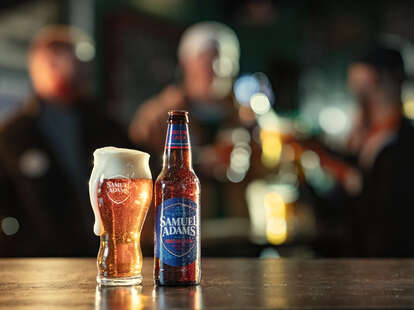 There's finally a growing sense of hope as vaccine rollouts are underway. And while simply saving lives should be reason enough to snag your Pfizer, Moderna, or Johnson & Johnson shots, Sam Adams will also give you free beer.
The Boston-based brewer is celebrating National Beer Day with an all-new initiative, dubbed #ShotForSam—and no, this doesn't refer to the tequila kind. The first 10,000 people to share proof of their COVID-19 vaccine can snag beer money for the next month. To be eligible, you must have gotten both doses of Pfizer or Moderna (or one, in the case of Johnson & Johnson).
"Humor can be a powerful tool. We're in a position to make something as important as the COVID-19 vaccine more approachable, especially for someone who may be intimidated," Boston Beer Company's CMO Lesya Lysyj said in a statement. "What we all have in common is our desire to get back to safely sitting at the bar with our friends, sharing a beer. Imagine if our younger, more social drinkers see this and think: if Your Cousin from Boston can get vaccinated, so can I."
Entering is simple, too. Just post a photo of your vaccine card or sticker on social media, tag Sam Adams, and include #ShotForSam. You can also send the pic directly to the company's email, as well, if you want to keep your vaccine card private. The $7 for beer is just a bonus. Sam Adams will Venmo it on over, so you can hit the town and cheers to a life not ruled by the virus.
The promo kicks off April 12 and closes May 15—or until 10,000 score the cash. And, naturally, you must be 21 or older. Get out there and get vaccinated, people.
Megan Schaltegger is a staff writer at Thrillist.