Sam Richardson's Day Off in Cass Corridor, Detroit Is a Beer-Fueled History Trip
The actor and comedian shows us around his hometown and dishes on the best spots to press a record and eat Detroit-style pizza.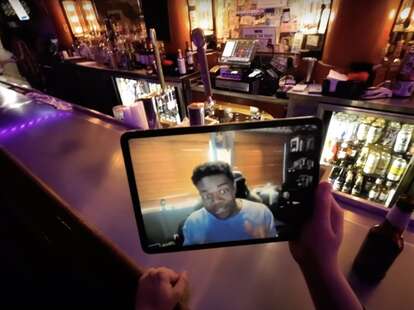 Sam Richardson wants you to know that Detroit is not what you think it is. Or better, it is not only what you think it is; it's actually so much more.
"I think people, when they think about Detroit, they think about Robocop," the actor and comedian said in a recent interview with Thrillist. Richardson won't lie: There are parts of the city that are neglected or, as he puts it, "purposefully disenfranchised," but they're just the tip of a much larger, culturally- and historically-heavy iceberg.
Cass Corridor, one of Richardson's favorite Detroit neighborhoods, is a great example of this phenomenon. Sure, it's a historic part of the city featuring castle-like buildings and reminiscent of European architecture, but it's also a cool spot where people hang out and live their everyday lives. Food, drinks, music, you name it—Cass Corridor has it all.
In our series "Ride With Me," Richardson leads us into Detroit's coolest spots, serving as a proper ambassador for his city. Dive bars serving as movie sets, local breweries offering (allegedly) the best pizza in the country, and scary-looking temples that in reality function as music venues are just some of what makes Richardson's Cass Corridor his go-to neighborhood.
If he were to do a TV spot for Detroit, it'd be something like this:
"Come on down to Detroit City, we got everything you need. We got pizza, we got beer, and we got good times. If you come here right now, I'll make sure I pick you up from the airport myself. That's a Sam Richardson promise."
How could you say no to that? Hop on a vintage car and come with us. We're going to Detroit!
Places to Eat & Drink
Temple Bar
Anybody who's seen the show Detroiters will recognize this bar. It's where Richardson's character goes in almost every episode.
It's an old-school dive bar, and to Richardson, it's a staple place. "It exemplifies sort of what I deem a Detroit bar, those sort of dive bars," he said. "Also Temple Bar held strong when Little Caesars Arena was going in, they were buying up all the space, but Temple Bar didn't sell."
It's what a bar is supposed to look like, he said. We asked whether he meant in Detroit or just period. "Period," he answered. "But especially in Detroit."
Motor City Brewing Works
If you ever wondered where the Ghettoblaster beer comes from, this is the spot.
Motor City Brewing Works is a go-to brewery for Richardson, who swears by their outdoor patio. Their Detroit-style pizzas are great, and you just shouldn't miss out on the pizza in Detroit. "I think Detroit was just named [the] best city for pizza, which I mean, we already knew," said Richardson. "So all this Chicago and New York talk, I'm like, 'Yeah, I guess,' but Detroit pizza is where it's at."
Things to Do
Masonic Temple
Richardson will tell you he graduated high school in the Masonic Temple.
It's a historic landmark in Detroit, and it carries rumors of conspiracy theories. "Knights Templar, Freemasons, that sort of thing," Richardson explained. "There's traditions and rituals they do in there, but really, it's a fraternal club."
Besides actually being the temple where Freemasons have their club, the 100-year-old building also functions as a music venue. There's also a roller rink, and Richardson fondly remembers this as the place where he first realized he wanted to be an actor. Clearly, it worked out, and as it often happens, everything came back in full circle: For season one of Detroiters, the production office was located in the Masonic Temple.
Third Man Records
Music heads will love this place. Jack White, the Detroit-born rocker who founded the band The White Stripes, started a record label called Third Man Records, and this is its store.
While its black-and-yellow theme is definitely eye-catching, wait until you see its record pressing booth. "You could also record and press a record in the store," said Richardson. "Which is remarkable." He's right. It's really cool.