This Advent Calendar for Your Dog Comes Stuffed With 55 Grain-Free Treats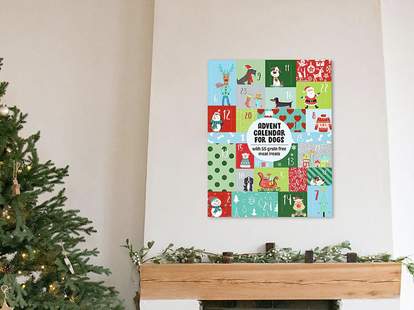 We've seen a lot of funky advent calendars this year -- hard seltzer, hot sauce, and German beer to name a few outlandish favorites. And then there were cat calendars from Trader Joe's, which were fantastic for all of those city folk who brand themselves as thrifty, Brussels sprout-roasting kitty lovers. But now it's time for pups to get into the holiday spirit, with Sam Club's advent calendar for dogs. 
Warning: Before purchasing an advent calendar for your pet, make sure you check in with them, as they may not hold your same religious beliefs. 
The calendar includes 55 grain-free treats for your good boy, and only costs $10. The flavors include duck fillets, duck bites, duck hamburgers, chicken fillets, chicken hamburgers, chicken bites, turkey stars, turkey bites, and a pizzle stick. Pizzle stick is dried bull penis, which dogs actually like -- along with the other organ meats -- because it mimics their ancestral diet. 
Every treat included is FDA approved, according to The Daily Meal -- they're 95% meat, and all natural. My editor just bought one for his young pup. We wouldn't recommend something we didn't trust... Notice we didn't recommend the absinthe advent calendar. 
Sign up here for our daily Thrillist email and subscribe here for our YouTube channel to get your fix of the best in food/drink/fun.