A Massive SoCal Earthquake Is 'Locked, Loaded and Ready to Roll'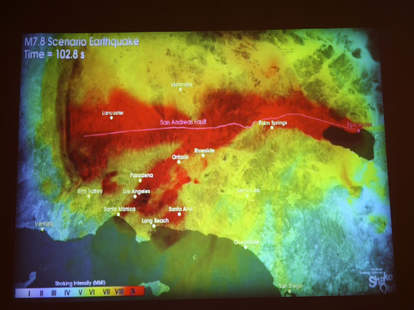 Californians have long been warned about the "Big One." There was even a movie starring the Rock all about it that might have been based in science. But probably not. Today, however, scientists voiced especially terrifying words on the subject of that "big" earthquake coming to California. Brace yourself. 
According to the LA Times, the director of the Southern California Earthquake Center Thomas Jordan referred to the Southern California portion of the San Andreas fault as "locked, loaded, and ready to roll" in a recent statement, meaning a super earthquake is expected imminently. The San Andreas fault, which stretches 800 miles through California and comes within 35 miles of the major city of Los Angeles, has apparently been "wound very, very tight," as it has not relieved stress for over a 100 years. If you hadn't relieved stress in 100 years, you'd be "wound very, very tight" too. 
Jordan warned that cities should prepare themselves for an earthquake with a magnitude of up to 8, which is a pretty crazy earthquake. An earthquake that size could cause shaking for close to two minutes, and even though the fault doesn't run straight through Los Angeles, the region would still be affected. For perspective, the 1989 Loma Prieto earthquake was only a 6.9 magnitude.
Just check out this really scary simulation that shows the impact zones of a potential magnitude 8 earthquake along the San Andreas fault line:
Yeah, that's no joke. The LA Times went on to explain that in 2008 the U.S. Geological Survey said that a 7.8 magnitude earthquake could cause 1,800 deaths, 50,000 injuries, $200 billion in damage, and put the sewer system out of commission for up to six months. Though since then, Los Angeles has been upping its earthquake prep game to ensure it's ready for  the "Big One."
OK, now go watch San Andreas to forget about all this. And then, like, actually prepare. 
Sign up here for our daily Thrillist email, and get your fix of the best in food/drink/fun.
Kara King is a News Writer at Thrillist and is always prepared. Send news tips to news@thrillist.com and follow her at @karatillie.