Saturn and Mars Will Have a Close Encounter in the Night Sky Tonight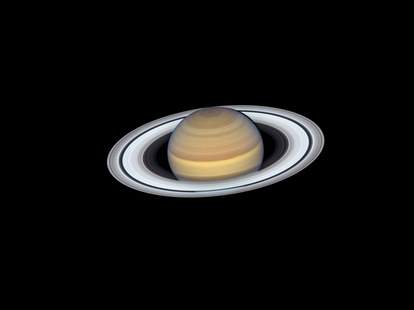 NASA, ESA, A. Simon (GSFC), M.H. Wong (University of California, Berkeley) and the OPAL Team
It's the final day of March. The final day of an outstanding month for viewing Mars, Jupiter, and Saturn hanging out in the sky together every morning. They've made a few interesting formations, including an encounter with the moon and a conjunction between Jupiter and Mars. Now, it's Saturn's turn to get cozy with Mars. 
On the morning of March 31, Mars and Saturn will have a close interaction in the morning. To see the pair appearing to violate the rules of social distancing, look to the east about two hours before sunrise. Jupiter will still be hanging out in the area, but Mars and Saturn will be the stars of the show even though they're categorically not stars.
When looking to the east, Mars will sit just below Saturn with Jupiter to the right of that formation.
The planets are quite bright, so as long as you've got clear skies, you should be able to see them even in a big city with light pollution. However, if you use binoculars or are somewhere where the planets will stand out a little brighter against the night sky, the color contrast will be striking. Mars will be sort of orangish-yellow, while Saturn is a yellowish-white. After you see it, you can give the trio of planets a quick cheer with your morning coffee as they end a month that brought good stargazing opportunities when we needed a little escape into the stars.
Sign up here for our daily Thrillist email and subscribe here for our YouTube channel to get your fix of the best in food/drink/fun.