This Sausage Sliders Recipe Is the Key to a Perfect Italian Dinner on the Cheap
Are you low on cash but still want to party like a baller? Well, we're here to help. Welcome to
$30 Dinner Party
, Thrillist's brand-new series created to help people just like you throw killer dinner parties for very little money. Join host Lee Kalpakis as she creates special recipes for you to wow your friends and family on the cheap with new episodes every Monday at 2pm ET on Thrillist's YouTube channel.
While meatballs are hands down among the easiest and most inexpensive meals you can make, it's equally easy to get bored with the same old meatballs-marinara-noodles combo you've already had a zillion times. But just like tacos, BBQ, and breakfast for dinner, there are plenty of great ways to breathe new life into meatballs. We brought in none other than meatball expert Daniel Holzman, chef and co-owner of The Meatball Shop empire in NYC, to make a meatball recipe that's easy, delicious, and best of all, different.
In a new episode of Thrillist's series $30 Dinner Party, host Lee Kalpakis teams up with Daniel to create a "baller" Italian dinner party menu featuring a fun spin on meatball sliders -- and more -- for less than 30 bucks. However, instead of planning a dinner party to impress friends, Lee and Daniel set out to blow away patrons who get an early taste of the dishes at The Meatball Shop. Together, they devise three courses that include everything you'd want out of an Italian meal: homemade Italian sausage and pepper sliders on garlic bread; orecchiette pasta with fresh mint, peas, and ricotta; and banana Nutella French toast. Some of the recipes will be featured on Holzman's Project Foodie app, and will even be served at The Meatball Shop restaurants. They're that good.
Watch as the duo plans out the meal, hits up a grocery store for the necessary ingredients, demonstrates how to cook each dish, and finally, treats some lucky restaurant customers to a preview tasting. Unsurprisingly, the banana Nutella French toasts blows people away -- one customer went so far as to describe it as "the golden gates of heaven if it was, like, turned into an edible sandwich." Little do they know that you can make all three dishes at home for around $30, or $29.98 to be exact. Well, damn.
thrillist video
Grocery list with prices
6 eggs -- $1.69
Red bell pepper -- $0.75
Italian sausage -- $3.50
Orecchiette -- $2.69
1 cup ricotta -- $1.49
1 small block Parmesan -- $4.50
1 bunch french mint -- $1.00
1 bag frozen peas -- $1.89
2 teaspoons lemon zest -- $0.50
1 loaf brioche -- $4.00
1 jar hazelnut spread -- $2.59
2 bananas -- $0.50
Baguette -- $1.69
Fennel seed -- $2.19
Parsley -- $1.00
Total price:
$29.98
Pantry staples you'll need
Salt
Pepper
Oils
Vinegars
Garlic
Onions
Cayenne
Garlic powder
Oregano
Paprika
Ketchup
Hot sauce
Flour
Sugar
Butter
Baking powder
Baking soda
Vanilla
Cinnamon
Red pepper flakes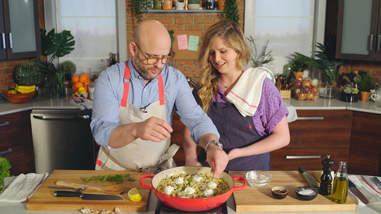 thrillist video
Homemade Italian sausage and pepper sliders on garlic bread
INGREDIENTS:
For sausage:
1 pound ground pork
1 clove garlic, minced
2 teaspoons salt
2 teaspoons cracked pepper
½ teaspoon toasted fennel seed
½ teaspoon cayenne
1 teaspoon red pepper flakes
1 tablespoon parsley
1 tablespoon red wine vinegar
For sliders:
2 tablespoons olive oil
1 red bell pepper, sliced
1 small yellow onion, sliced
Salt and pepper
For garlic bread:
1 baguette
2 cloves garlic
½ stick butter, melted
DIRECTIONS:
Preheat oven to 350. Combine butter and garlic. Cut baguette longways leaving one side attached. Pour butter and garlic mixture over baguette and bake until slightly brown and toasted (about 10 minutes). Remove from oven and cut into 2-inch pieces, leaving one side attached.
Combine all ingredients for sausage and mix thoroughly with clean hands. Form meat into small patties (about 3 inches in diameter).
Drizzle olive oil into a large skillet over high heat and add sausage. Cook until browned on both sides (about four minutes on each side). Remove from pan. Add olive oil to pan. Add garlic, onion, and pepper to pan and stir until vegetables are coated in oil. Cook until soft (about 10 minutes) then add sausage back into pan and cook for another 10 minutes.
To assemble sliders: sandwich one sausage patty, topped with peppers and onion between two pieces of garlic bread.
Orecchiette with fresh mint, peas, and ricotta
INGREDIENTS:
1 box orecchiette pasta
1 cup pasta water
3 tablespoons butter
1 clove garlic, minced
1 cup fresh mint, chopped
1 cup frozen peas, thawed
2 teaspoons lemon zest
Juice of ½ a lemon
1 cup ricotta
½ cup grated pecorino
Shaved pecorino, cracked pepper for garnish, and mint leaves for garnish
DIRECTIONS:
Boil pasta according to package (9 minutes).
In a large pan, melt butter and add garlic. Transfer pasta to pan with butter.  Add salt, pepper, and red pepper flakes. Reserve 1 cup of pasta water to add to pan as needed while stirring.
Add peas, lemon zest, lemon juice and mint. Finish with dollops of ricotta and olive oil. Garnish with more pecorino, red pepper flakes, black pepper, and mint leaves.
thrillist video
Banana Nutella French toast
INGREDIENTS:
¼ cup milk
2 large eggs
1 teaspoon vanilla extract
1 teaspoon sugar
1 pinch salt
4 slices challah bread, brioche or any sweet fluffy bread
½ cup chocolate hazelnut spread
1 ripe banana
2 tablespoons unsalted butter
1 tablespoon powdered sugar
DIRECTIONS:
Whisk the milk, eggs, vanilla, sugar and salt together in a small bowl. Slice the banana thinly into discs. slice the bread and line in the shallow baking dish then pour the egg mixture over the top, flipping to ensure they're completely coated.
Heat the butter in a large skillet over a medium-high flame. Place the egg-soaked challah into the pan and cook until golden brown and crispy. Flip the bread over in the pan and spread the Nutella on one side then layer the bananas on top. When the second side is crispy and golden brown flip it over to form a sandwich.
Serve immediately or hold in a warm oven. To plate, cut in half, top with a scoop of vanilla ice cream and garnish with the powdered sugar, shaking it through a strainer to distribute with no lumps.  
Recipe courtesy Daniel Holzman
Sign up here for our daily Thrillist email and subscribe here for our YouTube channel to get your fix of the best in food/drink/fun.

Tony Merevick is Senior News Editor at Thrillist and loves a good meatball. Send news tips to news@thrillist.com and follow him on Twitter @tonymerevick.