Time Out, There's Another 'Saved By the Bell' Restaurant & It's Taking Reservations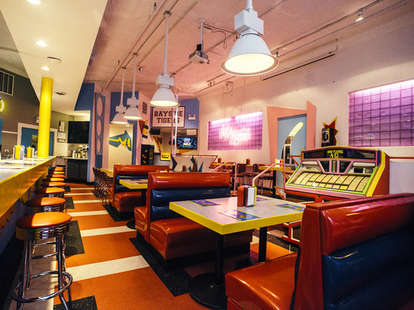 JIM VONDRUSKA/THRILLIST
JIM VONDRUSKA/THRILLIST
A Zack Attack is coming that will have Angelenos singing "I'm So Excited." Saved By the Max, the Saved By the Bell-themed pop-up restaurant that took Chicago by storm last year, is coming to Los Angeles. Modeled after the show's The Max diner, it's a full-service pop-up that will make you feel like one of the kids at Bayside. (Or maybe one of the older teachers lurking around the edge of the scene.)
Organizers Zack Eastman, Steve Harris, and Derek Berry are making good on their promise to take the long-running Chicago pop-up on a tour that hopefully lasts longer than The College Years and leaves a better taste in your mouth than Wedding in Las Vegas. This is the first city outside of Chicago that has been announced, but the original announcement indicated that the pop-up would be hitting a number of cities across the country, eventually, even if it's a slow process.
The dates aren't set [ed note: see update below, reservations are now open], but The Max says it'll deliver neon-tinged nostalgia before the end of the year. Additionally, the location will be revealed when tickets go on sale in a few months. In Chicago, tables had to be reserved via the app Tock, which included what was basically a small deposit on your totally rad meal.
The restaurant, which has the backing of NBC Universal, is an immersive experience that looks like the Max but also features loads of memorabilia (sans Screech sex tapes) and a full menu diner-style menu.
UPDATE:
Tickets for brunch and dinner at Saved by the Max in West Hollywood are now officially on sale. You can reserve your seats in The Max or if you've been involved in nefarious hijinx, Mr. Belding's office. Reservations are likely to go quickly, as they did in Chicago. The Max is open six days a week and isn't taking reservations on Mondays.
Sign up now to have a meal full of AC Sliders, Mac & Screech, Preppy Pastrami, and the Snack Attack.
h/t Eater
Sign up here for our daily Thrillist email, and get your fix of the best in food/drink/fun.