You Can Scale This 1,300-Foot Tall Building in NYC
A champagne toast awaits you at the top.
If scaling the side of a 1,300-foot tall NYC skyscraper isn't your worst nightmare, then I've got news for you. You can now do exactly that at 30 Hudson Yards before ending the climb with a glass of champagne atop the Edge, which you'll likely need after that kind of adrenaline rush.
Here's how it works: City Climb, the company running the program, will strap you into harnesses and put you on course via trolley-attached cables. Don't worry, you'll get the full safety briefing ahead of time. You'll then spend 45 minutes navigating the open-air platforms and stairs before finishing at the Edge for that celebratory toast.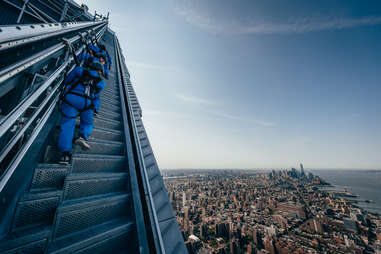 "With no obstructions along City Climb's exterior perimeter, at various points throughout the experience willing guests can look out across New York City and lean out over the building's open edges with nothing but air and breathtaking views surrounding them," City Climb told Travel + Leisure. "Offering guests never before seen skyline views, City Climb is an aerial adventure unlike any other."
The experience starts with 32 steps between the Basecamp and The Cliff, which sits at 1,190 feet. You'll continue for 161 more steps, at a 45-degree incline, I might add, before reaching The Apex, where you can lean out and hang over the platform.
City Climb is hosting the adventure seven days a week, and it'll only cost you $185 to absolutely terrify—or, I guess, thrill—yourself.
Megan Schaltegger is a staff writer at Thrillist.