People Are Stealing Millions From Grocery Stores by Scanning Items as Carrots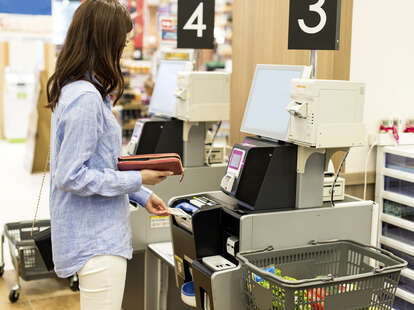 Yagi-Studio/E+/Getty Images
Yagi-Studio/E+/Getty Images
Self-checkout in grocery stores has definitely made the chore of shopping a little better. Maybe not for the people whose job it is to teach octogenarians about the joys of touchscreen technology, but for most of us. One group, however, seems to be benefiting from this technology most of all: thieves.
British shoppers have reportedly been sneakily weighing a variety of items as "carrots" at self-checkout stations, and over the last four years this has totaled up to $4 million in theft, according to a report by The Independent. And it's become so common that many don't even think of it as a crime.
"This behaviour is perceived as cheating the system or a way of 'gamifying' an otherwise mundane routine," Emmeline Taylor, professor of criminology at the University Of London, told the Times of Malta.
Taylor discovered the behavior originally in Australian grocery stores and then recognized a similar pattern in Britain. She'd been helping stores reduce shoplifting when she noticed that more carrots had been purchased from a store than a store had stocked, and in one case, someone purchased 40 pounds of carrots in a single trip.
But that isn't even the most flagrant example. Back in 2012, a former hockey player stole $600 worth of groceries from a supermarket over three months by scanning everything as loose onions. But, as The Takeout points out, the store didn't sell loose onions at all. The option just came standard on the machine.
Sign up here for our daily Thrillist email and subscribe here for our YouTube channel to get your fix of the best in food/drink/fun.