Hurricane Hermine Looks Scary as Hell for Florida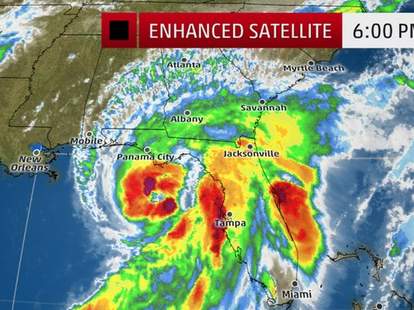 Hurricane Hermine is about to make landfall along Florida's Gulf Coast. It's the first Hurricane to hit the state in 11 years. Meteorologists expect Hermine to arrive Thursday night, with heavy rainfall already hitting coastal communities in advance of Hermine's arrival.
Hermine will likely be a Category 1 hurricane when it hits, carrying damaging winds and "life-threatening" storm surges, according to the National Hurricane Center. The worst of the storm's force is projected to make landfall just north of Tampa. Additionally, parts of central and northern Florida have been placed under a tornado watch until 11pm ET Thursday, making it a shit storm of scary weather for residents.
After it passes through parts of Florida's gulf coast, the storm is expected to continue moving north through Florida and along the eastern seaboard. Cities as far north as Wilmington, North Carolina are currently under a Hurricane Watch, and there is a Tropical Storm Watch in effect as far north as Atlantic City, New Jersey.
Governor Rick Scott has declared a State of Emergency and issued a mandatory evacuation notice for Franklin County. For up to date information on the warning and what areas it covers, take a look at the National Hurricane Center's warning, which will next be updated at 8pm ET and 11pm ET.
Sign up here for our daily Thrillist email, and get your fix of the best in food/drink/fun.
Dustin Nelson is a News Writer with Thrillist. He holds a Guinness World Record, but has never met the fingernail lady. He's written for Sports Illustrated, Men's Journal, The Rumpus, and other digital wonderlands. Follow him @dlukenelson.