This Airport Just Opened a Walk-Up Shots Bar for Pre-Flight Boozing
Are we going Fireball or tequila?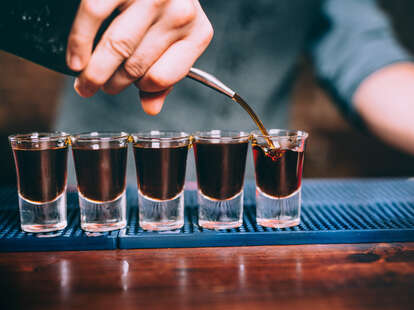 Shutterstock
Shutterstock
The airport is a relatively lawless in-between place where social norms like 'you can't drink before noon' simply don't exist. Want a 7 am beer to get your day started? Do it. There's no judgement at the Terminal C Chili's.
And now, you can do one better. The Seattle-Tacoma airport is officially opening a shots-only bar concept, so you can get your pre-flight buzz on. Dubbed Shot Bar, naturally, the concept is part of a pop-up at the Rel'Lish Burger Lounge in the Terminal B concourse and exclusively serves chilled shots in tiny plastic Solo cups. According to Food & Wine, you can toss one back for $7, or $10 if you're down to do a double.
"Limited seats are available for passengers to have a cocktail at the airport due to physical distancing protocols, but the interest from travelers for adult libations remains high," mastermind behind the project chef Kathy Casey said in a statement, according to F&W. "SHOT BAR addresses that in a fun and pioneering way. Plus, there's nothing more fun than a quick shot to kick off vacation."
The menu features a smattering of booze, including Fireball, Hornitos Crystalino tequila, Ketel One cucumber- and mint-flavored vodka, Skrewball Peanut Butter Whiskey and Brown Sugar Bourbon. And because, hello, we're still living through a pandemic, it'll all be served beneath a plexiglass barrier. Get tipsy and stay safe—woo!
"2020 was difficult for our airport and the businesses here due to the pandemic and its impacts on travel," director of commercial management Dawn Hunter said in a statement. "It is exciting to embrace innovations like Shot Bar to continue to create positive experiences for travelers during their journey."
Sign up here for our daily Thrillist email and subscribe here for our YouTube channel to get your fix of the best in food/drink/fun.
Megan Schaltegger is a staff writer at Thrillist.