Study: Your Constant Selfie Posting Is Ruining Your Relationship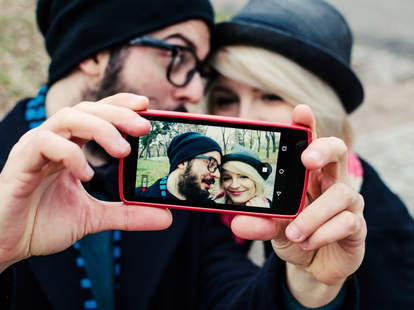 Just taking a quick selfie on the lock bridge of her kissing your cheek? Yep, the relationship is doomed.
According to a recent study by Florida State University, posting selfies on Instagram is harmful to your romantic relationship. Researchers had 420 Instagram users ages 18-62 complete a questionnaire. When the results were examined, they found that an increase in selfie posting was associated with both body-image satisfaction and Instagram-related conflict. The researchers also found that these factors led to "increased negative romantic relationship outcomes."
Basically, this means excessively posting selfies could be a sign that you and your significant other will soon stop being #cudddlemonsters and start fighting. Of course, it's just one study. So, it should not be taken as concrete fact. 
But still, always good to be reminded that selfies are bad, m'kay.
Sign up here for our daily Thrillist email, and get your fix of the best in food/drink/fun.
Kara King is a News Writer at Thrillist, m'kay. Send news tips to news@thrillist.com and follow her at @karatillie.