The Sexiest Jobs, According to Tinder Users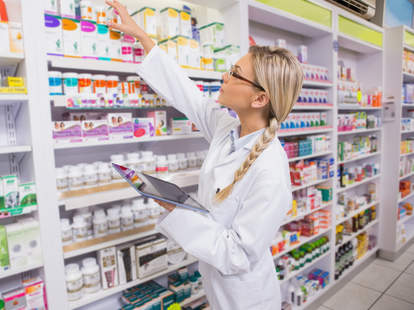 Alright ladies. Here are three keywords to help you score the perfect date: speech language pathologist. Guys are all about speech language pathologists, apparently.
Tinder just released data on the careers that get the most right-swipes, combining data from November 2015 - January 2016 along with the recent option to list a profession on your Tinder profile. 
The number one sexiest job for a guy is a pilot, followed by entrepreneur, and firefighter. Those are pretty standard, given that pilots and firefighters have been deemed sexy since, Top Gun and Backdraft. Probably. One surprise on the list: financial advisor. Look out for that sexy financial advisor calendar at an office near you.
As for the sexiest female jobs, the top spot goes to physical therapist, which probably has less to do with education, and more to do with massage skills. Second place is interior designer, while third is entrepreneur, which is nice to hear, as that implies guys aren't always terrified of smart women. But the most out-of-the-box job on the women's list is speech language pathologist, or speech therapist. That actually beat out being a model. So, don't lie and put model on your profile. Lie and put speech language pathologist on your profile. It sounds way more realistic. And apparently sexier? 
Check out the top 15 sexiest jobs for men and women below. And if your job isn't on the list, well, maybe it's time to make a career change.

15 Sexiest Jobs for Men
1. Pilot
2. Founder/Entrepreneur
3. Firefighter
4. Doctor
5. TV/Radio Personality
6. Teacher
7. Engineer
8. Model
9. Paramedic
10. College Student
11. Lawyer
12. Personal Trainer
13. Financial Advisor
14. Police Officer
15. Military

15 Sexiest Jobs for Women
1. Physical Therapist
2. Interior Designer
3. Founder/Entrepreneur
4. PR/Communications
5. Teacher
6. College Student
7. Speech Language Pathologist
8. Pharmacist
9. Social Media Manager
10. Model
11. Dental Hygienist
12. Nurse
13. Flight Attendant
14. Personal Trainer
15. Real Estate Agent

Sign up here for our daily Thrillist email, and get your fix of the best in food/drink/fun.
Kara King is a News Writer at Thrillist and realizes that writer is not on this list. Send news tips to news@thrillist.com and follow her at @karatillie.