Shake Shack Is Giving Out Free Cheeseburgers for the Next Week and a Half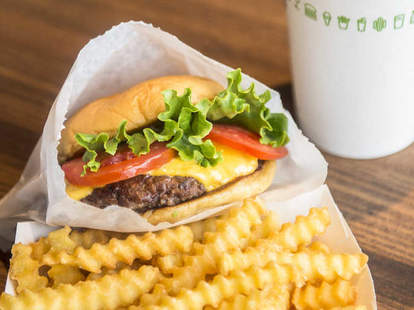 I'm grateful for a lot this holiday season -- my friends, family, good health, and that 5-year-old school nativity scene actress that flipped off the audience for 20 minutes straight. Now, we're all getting yet another reason to be grateful: free cheeseburgers at Shake Shack.
From now through January 6, 2020, Shake Shack is giving away free cheeseburgers, the fast casual chain announced on Thursday, meaning your resolution to eat fewer burgers in the new year is officially in danger. Here's how to get the deal: go to order.shakeshack.com or open the Shake Shack mobile app, put together an order of at least two burgers (or an order totaling at least $10), and enter the code THANKYOU19. Once the code is applied at checkout, you'll get a maximum of $6 off your order, which should cover one of your burgers. In other words, it's a buy-one-get-one (BOGO) burger deal.
"2019 was unforgettable + we owe it all to you, our incredible Shack fans," Shake Shack said via tweet. "Your continued support makes everything we do possible. As a thank you, when you order a burger through the app or [online] using the code THANKYOU19, you'll get a second one free."
You can score a free Shackburger for doing literally nothing, which bodes well for me -- my New Year's resolution was to freeload more. But like most promotions, there are a few more conditions: locations at airports, stadiums, and ballparks are all excluded from the offer, according to the company.
But if you'd rather opt out of the burger and opt in on something more caffeine forward, you're in luck. Starbucks is rolling with the freebies right now. Not only is there BOGO happy hour deal on all handcrafted drinks on December 26, but the chain is giving away free drinks at pop-up parties across the US.
Personally, I'm hitting all of the above and then some.
Sign up here for our daily Thrillist email and subscribe here for our YouTube channel to get your fix of the best in food/drink/fun.
Megan Schaltegger is a staff writer at Thrillist. Follow her @MegSchaltegger.