Shake Shack Is Offering DIY 8-Pack Cheeseburger Kits With Nationwide Shipping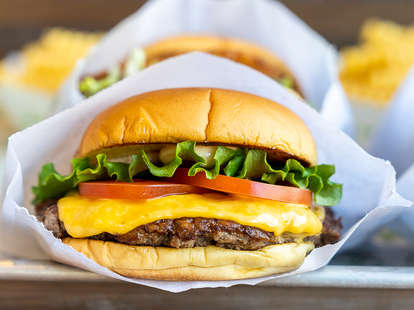 Everyone is acclimating to relative isolation differently. And while I'm right there with you on the hobbies front -- bingeing Tiger King and learning very bad TikTok dances for an audience of one (my dog) -- I don't have the patience to whip up an Instagrammable Bon Appetit recipe for every quarantine meal. I am, however, willing to give the whole cooking thing a try.
Especially now that Goldbelly just made it possible to prep an actual Shake Shack meal right from home. The food delivery service, which ships local restaurant faves from across the nation, has teamed up with the burger slinger to create DIY ShackBurger Kits.
If you just want the premade patty and side of fries, Postmates is still your guy. But the cooking kits come complete with the chain's fresh, 100% Angus beef blend (perfected by Pat LaFrieda Meat Purveyors), American cheese, and Shack sauce so you can do it yourself. I think we could all use an activity that gets us off the couch -- even if it's just to make more food you'll wind up eating there.
The kits will cost you $49 a pop, and each includes enough for 8 fully-dressed burgers that you can use for a lot of meals or one really large cheeseburger. Shipping will run you an extra $25, and you can send them anywhere in the US except Puerto Rico.
"Our mission as a company is to bring people an edible hug, a connection to a loved one even though you may not be with them, a moment of nostalgic comfort from a beloved food memory," Founder and CEO Joe Ariel said in a statement to Thrillist. "We understand how truly important our mission is, now more than ever. As a long time Shake Shack fan since the days of their original cart in Madison Square Park, there aren't many comfort foods that touch my heart as much as the iconic Shake Shack burger." Click here to buy!
Sign up here for our daily Thrillist email and subscribe here for our YouTube channel to get your fix of the best in food/drink/fun.
Megan Schaltegger is a staff writer at Thrillist.