Finally, Shake Shack Is Adding Nationwide Delivery Through Grubhub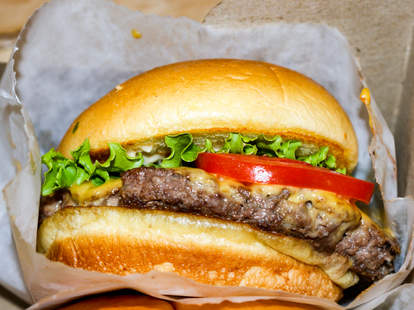 Cristiana S/shutterstock.com
As adults, there are countless miracles we wish would just appear at our doors. Among these are true love, free health insurance, a diagnosis that explains the bizarre symptoms we've been ruminating on, and Shake Shake cheeseburgers. Until today, I thought none of these things would ever show up at our grown-up homes. But I'm happy to report that on Monday, Shake Shack announced a new partnership with Grubhub and Seamless.
That's right baby, Shake Shack is finally going to deliver nationwide.
For now, the New York native burger chain will be testing this exclusive partnership in four locations: Morningside Heights in New York; the River North area of Chicago; Livingston, New Jersey, and Darien, Connecticut.
Grubhub founder Matt Maloney said in a statement that he's thrilled to be partnering with "one of the country's most iconic brands" and is looking forward to improvements that will come with the partnership.  
"Being a true partner to restaurants isn't just about delivering food to customers quickly and efficiently," said GrubHub Founder Matt Maloney in a statement. "It's about using technology to maximize a brand's online presence and improve restaurant operations."
Restaurant operations, AKA, hot and fresh burgers. Grubhub will use its "Just in Time" technology to guarantee drivers are picking up the orders the moment they're ready, which in theory means your Shackburgers will arrive as fresh as possible.
We'll begin to see the partnership rollout nationwide in the next few quarters. In the meantime, I hope you're the lucky reader that lives in one of those four locations, or at least a reader that won't flip your computer when you realize you'll still have to go to Shack Shack, hold the buzzer, and listen to that one guy who keeps asking you if it vibrated yet.
Sign up here for our daily Thrillist email and subscribe here for our YouTube channel to get your fix of the best in food/drink/fun.