Shake Shack's New Hot Chick'n Just Spawned a Spicy 'Secret Menu' Item
More than a year and half after Shake Shack unleashed its first fried chicken sandwich, the NYC-favorite better burger chain is finally jumping into the spicy chicken sandwich arena with the nationwide debut of its new Hot Chick'n sandwich on Tuesday. While the Nashville hot chicken-style sandwich is a major addition to the menu, its ingredients can be used to make a new "secret menu" item that you won't find listed among the cheeseburgers and shakes: spicy fries.
The hot twist on the beloved crinkle cuts is simple. As Shake Shack explains, the Hot Chick'n sandwich is made with a crispy fried chicken breast that's dusted with a guajillo and cayenne pepper blend, then topped with hot sauce slaw, kosher dill pickles, and served on a potato bun. All it takes to make the spicy fries is the same dusting of the hot pepper blend. In other words, it's an easy off-menu creation that Shake Shack workers won't hate you for ordering -- if you ask nicely, of course.
A Shake Shack spokesperson said you can add the pepper blend to your fries -- both regular fries or cheese fries -- for no additional charge. All you have to do is ask your local outpost to make your fries spicy by dusting them with the pepper blend. While not necessarily a game-changer, the resulting heat on top of saltiness and crunch of the fries is worth the special request, especially if ketchup alone doesn't tend to cut it for you.
Along with the heat, the pepper blend adds a paprika flavor to a regular order of fries that's good enough to eat without other condiments, although the spice of the pepper and sweetness of ketchup is a damn good combo. On cheese fries, the pepper blend creates an addictive queso-like flavor. And if you're lucky, your Shake Shack may even offer to add the hot sauce slaw from the Hot Chick'n sandwich on top of your fries, too. At least, that's what happened when we asked for spicy fries at Shake Shack's Madison Square Park location in NYC.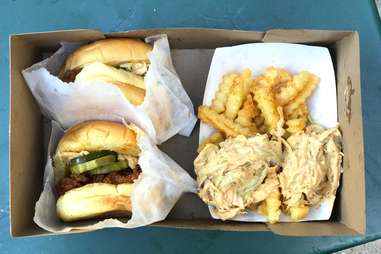 The Hot Chick'n -- and presumably the spicy fries -- are available at most Shake Shacks nationwide (excluding stadiums and airports) for a limited time. Sure, the sandwich is the star of the show here, but -- as anyone who can't go to to Shake Shack without ordering a greasy little cardboard boat of the fried potatoes knows -- fries are important, too. Now, you can finally elevate them with peppery heat.
Sign up here for our daily Thrillist email and subscribe here for our YouTube channel to get your fix of the best in food/drink/fun.

Tony Merevick is Senior News Editor at Thrillist and generally needs more fried chicken sandwiches and fries in his life. Send news tips to news@thrillist.com and follow him on Twitter @tonymerevick.