Shake Shack Is Giving Away Free Cheeseburgers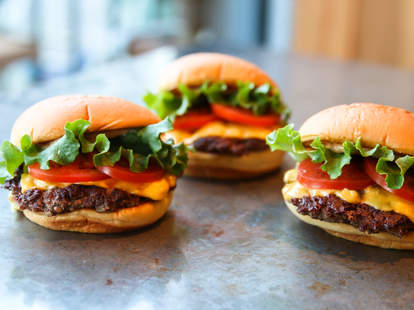 Holly Liss/Courtesy of Shake Shack
In little more than a decade, Shake Shack went from a single stand in NYC's Madison Square Park to a better burger empire with locations in more than 15 states and a handful of countries. Next week, the chain is poised to open its 100th "Shack" in Boston, and to celebrate, they're handing out free cheeseburgers.
Here's the deal:
On Tuesday, August 16th, Shake Shack will give you one free ShackBurger if you're among the first 100 people to line up at any of its restaurants worldwide before noon, according to a press release. Of course, that includes the new Boston Seaport location (77 Seaport Boulevard), but excludes Shake Shacks in ball parks or stadiums.
The better burger chain said its US locations will open at 10:30am (local time), but considering the insanely long queues there on a normal day, it's more than safe to say you'll need to get there super early to get your hands on a freebie. Just look at this way: you'll probably end up eating a free cheeseburger... for breakfast. Hell yes. 
Sign up here for our daily Thrillist email, and get your fix of the best in food/drink/fun.
Tony Merevick is Cities News Editor at Thrillist and could really go for a cheeseburger right about now. Send news tips to news@thrillist.com and follow him on Twitter @tonymerevick.