Shake Shack Just Announced a Honey-Covered Fried Chicken Sandwich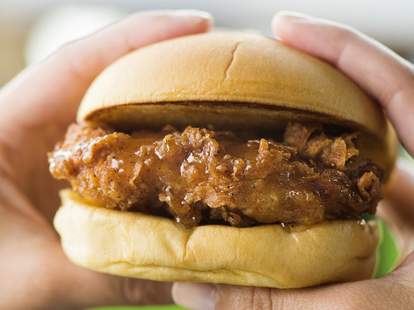 Courtesy of Shake Shack
Unlike the Chick'n Shack, which includes fairly traditional fried chicken sandwich toppings like pickles, lettuce, and mayo, the Salt & Pepper Honey Chick'n features a crispy chicken breast with just two toppings: a glaze of salted honey and a sprinkle of ground black pepper. Mark Rosati, Shake Shack's Culinary Director, describes it as the company's "spin on a classic," saying it offers "well balanced layers of sweetness and saltiness." It's really that simple, folks.
The new sandwich is available starting Thursday, October 6th, but only at Shake Shack's three Brooklyn locations and only for a limited time, according to a press release. But considering the huge success of the original Chick'n Shack ahead of its nationwide launch in the very same test market, it's only a matter of time before you can get your hands on a Salt & Pepper Honey Chick'n, too. 
Sign up here for our daily Thrillist email, and get your fix of the best in food/drink/fun.
Tony Merevick is Cities News Editor at Thrillist and could go for a good fried chicken sandwich right about now, but isn't quite sure about the whole honey aspect here. Send news tips to news@thrillist.com and follow him on Twitter @tonymerevick.