Shake Shack Is Collaborating With an NYC Pizzeria For a Cheesy, Saucy Burger
It comes on that Mama's TOO homemade focaccia!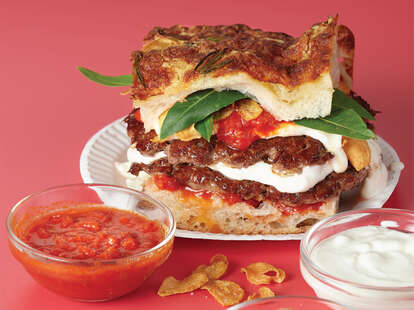 I've always considered myself an adventurous eater. I'll down just about anything on my plate. But despite my versatile palate, I've still got an appreciation for the classics. Nothing rivals a great slice of a pizza or perfectly melty cheeseburger.
And now, you don't even have to choose between the two. Shake Shack is partnering with NYC pizzeria Mama's TOO for the ultimate collaboration: a giant pizza burger. It's made with a double cheeseburger with stracciatella cheese, spicy 'nduja tomato sauce, bitter greens, and crispy garlic on the Upper West Side haunt's homemade focaccia baked with parmesan, mozzarella, and rosemary.
For one day only, Shake Shack's original burger joint in Madison Square Park is serving up this cheesy, saucy sandwich, which costs $10.49, while supplies last. Here's the trick for getting yours: order ahead. Guests can purchase their Mama's TOO burger via the app or website on Thursday, August 27.
While non-New Yorkers won't be able to get their taste buds on this cheeseburger-pizza hybrid, that doesn't mean you should forego a Shake Shack order altogether. Even if the burger maker is out of range, Goldbelly has created its own DIY kits in partnership with the chain.
"Our mission as a company is to bring people an edible hug, a connection to a loved one even though you may not be with them, a moment of nostalgic comfort from a beloved food memory," Goldbelly founder and CEO Joe Ariel said in a statement to Thrillist. "We understand how truly important our mission is, now more than ever. As a long time Shake Shack fan since the days of their original cart in Madison Square Park, there aren't many comfort foods that touch my heart as much as the iconic Shake Shack burger."
The classic 8- and 16-pack Shackburger kits are available for $49 and $89 a pop, but for just a few more days, you can also order Smokeshack sets.
Sign up here for our daily Thrillist email and subscribe here for our YouTube channel to get your fix of the best in food/drink/fun.
Megan Schaltegger is a staff writer at Thrillist.