Shake Shack Is Unleashing Its First-Ever Chili Menu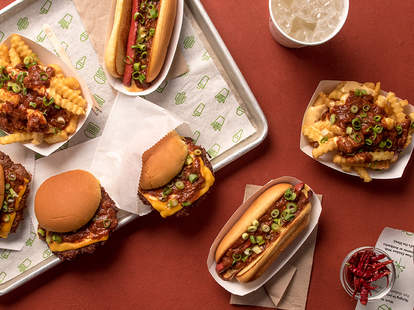 Although you can almost never go wrong with Shake Shack's simple ShackBurger, the ever-popular burger empire has introduced several notable additions to its menu this year -- from a super-exclusive lobster-topped burger to a spicy Nashville-inspired Hot Chick'n sandwich. The chain's latest special menu offering, however, could very well change your whole usual order. Chili.
On Monday, Shake Shack announced it will soon start serving its first-ever chili menu, featuring spicy takes on its standard fare such as a Chili Cheeseburger, a Chili Cheese Dog, and Chili Cheese Fries. The chili itself is made with smoked and slow braised beef, ancho peppers, and chile de arbol peppers, according to a press release. Oh, and it's worth pointing out that the provided recipe description makes no mention of beans.
Courtesy of Shake Shack
By the way, the new menu doesn't include a simple side of chili, but you can score a cup just by asking for it at the register (you're welcome). You can also order chili as a topping on other menu items, although it probably won't mix well with your chocolatey Concrete. Adding it to a regular chicken sandwich seems pretty interesting and relatively reasonable, though.
Chili officially hits Shake Shack locations across the country (minus stadiums and airports) on November 2, seemingly just in time for the arrival of cooler weather this fall. You can get your hands on it earlier, however, by ordering via the Shake Shack mobile app starting on October 30. Maybe chew on some antacids while you're in line. 
Sign up here for our daily Thrillist email and subscribe here for our YouTube channel to get your fix of the best in food/drink/fun.
 
Tony Merevick is Senior News Editor at Thrillist and has eaten way more cheeseburgers than normal lately. Send news tips to news@thrillist.com and follow him on Twitter @tonymerevick.