This Glittery Pink Milkshake From Shake Shack Is Benefitting a Good Cause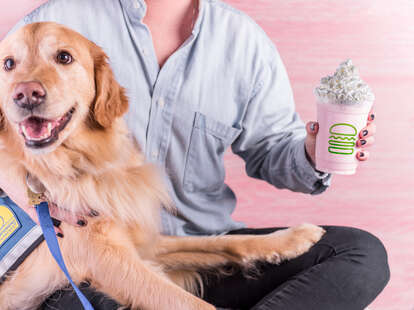 If you're one of the... um... mostly everyone who thinks Valentine's Day is a little ridiculous, Shake Shack is offering a way to indulge while doing something positive for some good dogs.
Inspired by The B-52s classic "Love Shack," the band and the food shack are releasing the Love Shack Shake. Yes, "Love Shack" inspired the Love Shack Shake at Shake Shack, which may convince you to see if they would sell a side of seashells by the seashore.
The drink is a strawberry blonde milkshake topped with whipped cream and glitter. It will be available From February 9-18 at Shake Shacks in New York City, Los Angeles, and Atlanta.
"At Shake Shack, music is in our DNA—and The B-52s 'Love Shack' holds a particularly special place in our hearts," Shake Shack culinary director Mark Rosati said in a statement. "Between the band's Georgia roots and the song's many glitter references, there was no shortage of inspiration for the Love Shack Shake."
Even better, you can feel doubly good about the treat because Shake Shack is donating $2 per shake sold to Canine Companions for Independence, a non-profit focused that "provides highly-trained assistance dogs to children, veterans, and adults with disabilities."
Proceeds benefit dogs. Milkshakes benefit your taste buds.
Sign up here for our daily Thrillist email, and get your fix of the best in food/drink/fun.
Dustin Nelson is a News Writer with Thrillist. He holds a Guinness World Record but has never met the fingernail lady. Follow him @dlukenelson.