Shake Shack Is Making a Lobster Burger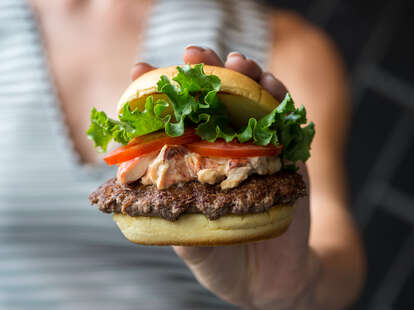 Less than a month after adding a new hot chicken sandwich to its menu nationwide, Shake Shack is capping off the summer with an extra-special treat: a lobster-topped version of its classic Shack burger. The catch (sorry) is that it's only available at two locations, and for a very limited time.
The "Lobster Shack" burger is a collaboration between the Shake Shack team and Eleven Madison Park -- the renowned NYC restaurant SS's founder Danny Meyer started back in 1998. It's essentially a lobster roll on steroids -- a hamburger topped with lettuce, tomato, and fresh Maine lobster tossed in Shake sauce. However, it's only available at the chain's original Madison Square Park location in New York City and a pop-up of Eleven Madison Park (EMP) in East Hampton for an extremely limited time (August 11-13).
If you don't live anywhere near these two locations or don't feel like making a road trip to satisfy your shellfish-on-a-burger-on-a-bun craving, there's a good chance you'll have another chance at some point in the future, since the lobster-topped burger has almost become a Shake Shack summer tradition (it unleashed a similar limited edition lobster burger to locations across the Northeast back in 2015). It's also worth mentioning that lobster isn't the only seafood that'll be on the limited-edition Shake Shack/EMP menu. The Hamptons pop-up will also be serving up Shack burgers topped with crispy little neck clams just for the weekend, along with a handful of other menu items.
And if geography prevents you from getting your hands on a Lobster Shack burger this time around, you could always try something else a little different by getting a taste of the chain's latest secret menu item.
Sign up here for our daily Thrillist email and subscribe here for our YouTube channel to get your fix of the best in food/drink/fun.