Shake Shack Is Unleashing Boozy 'Will & Grace'-Themed Milkshakes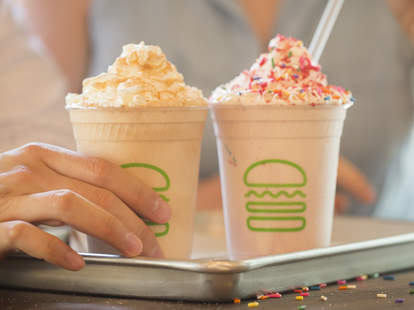 There are few better ways to celebrate the return of Will & Grace to TV this fall than with a bottle of red wine or Karen Walker's thermos full of "soup" made with gin and ... noodles. But it looks like Shake Shack is about to start serving what's perhaps the next best thing: two new milkshakes inspired by the show, one of which is boozy.
On Monday, the NYC-based "better burger" chain announced it has partnered up with NBC to celebrate the beloved late '90s/early 2000s sitcom's much-anticipated reboot with two limited edition shakes. Both shakes are inspired by the show's lovable characters -- Will, Grace, Jack, and Karen -- and will be available to slurp at Shake Shack locations in NYC and Los Angeles from Monday, September 18 through Sunday, October 1, according to a spokesperson for the company. The new Will & Grace premieres on September 28. 
Shake Shack said the Will & Grace Shake features cinnamon marshmallow frozen custard that's blended with fudge and topped with whipped cream and cinnamon sugar. The Jack & Karen Shake, however, is made with strawberry frozen custard that's blended with prosecco and topped with whipped cream, raspberry dust, and rainbow sprinkles. Yes, you read that right: prosecco. Blended right into the shake, as Karen Walker intended. You'll need to be at 21 and show ID to get one. 
More specifically, you'll be able to get your hands on the shakes at two Shake Shack restaurants in NYC, the Herald Square location and the Upper West Side location, the latter of which is -- fun fact -- only a few blocks away from Will and Grace's apartment, according to a press release. As for LA, you'll find them at the chain's Hollywood and West Hollywood outposts.
Shake Shack and NBC will donate $2 to GLAAD, the world's largest LGBTQ advocacy group, for every shake sold, which means you can feel slightly less guilt about getting a boozy milkshake on your lunch break. Of course, you could end up on a slippery slope to gin and noodle soup...
Sign up here for our daily Thrillist email and subscribe here for our YouTube channel to get your fix of the best in food/drink/fun.
 
Tony Merevick is Senior News Editor at Thrillist and has never had a boozy milkshake, unfortunately. Send news tips to news@thrillist.com and follow him on Twitter @tonymerevick.