This Convenience Store Chain Just Started Serving Beyond Burgers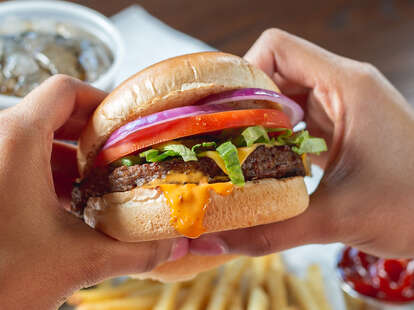 Convenience stores are reliable. They are there for you when the craving for, say, a Slurpee becomes too intense, or when you're feeling like wasting a few dollars on a dud of a scratch off. They're open forever, have endless snacks to pick from, and even hot food rotating on rollers or under heat lamps. But if you're a vegetarian, it's hard to get a filling option in the land of beefy hot dogs squirted with mustard or meaty taquitos.
All that is changing, however, at one convenience store chain: Sheetz will officially be the first convenience store chain to serve Beyond Burgers, a plant-based patty that replicates the flavors of beef, at all 597 of its locations for about $7, the company announced this week.
"Sheetz is constantly innovating and adding new menu items to give our customers what they want, when they want it, 24/7," Dan Coffin, the lead chef of culinary development at Sheetz, said in a statement. "As demand for healthier, diverse protein options increases, we are excited to add the Beyond Burger to our menu in our continual mission to be the ultimate one-stop-shop. We are proud to partner with Beyond Meat, the industry leader in plant-based meats, to become the first convenience chain in the continental US to serve a Beyond Burger option."
Every facet of the Beyond Burger will be completely customizable, so consumers can choose from seven different bread options, seven different types of cheese, 20 toppings, and 13 spreads. The permutations of Beyond Burger orders are nearly endless.
"We're excited to bring the Beyond Burger to all Sheetz locations nationwide in an effort to continue our mission of making plant-based meat accessible to all," Tim Smith, the vice president of sales and food service at Beyond Meat said, per a press release.
Whether you're a vegetarian, just looking to reduce your meat intake, or curious about the perplexingly beef-like burger, you can head to your closest Sheetz location and get your fix now.
Sign up here for our daily Thrillist email and subscribe here for our YouTube channel to get your fix of the best in food/drink/fun.
Kat Thompson is a staff writer at Thrillist. Follow her on Twitter @katthompsonn.