This 6-Year-Old Critic Is Giving 'Brutally Honest' Shirley Temple Reviews on Instagram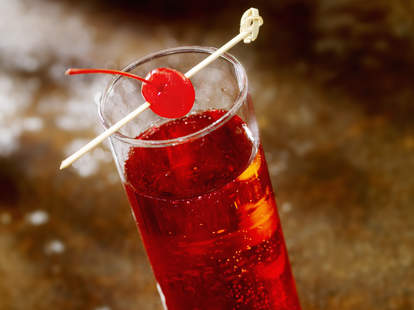 LauriPatterson/E+/Getty Images
Back in the day, I was known to enjoy a Shirley Temple -- the ginger ale-grenadine mocktail beloved by kids and anyone with tastebuds -- or two. And while I've since graduated to something a little stronger (margaritas are the adult equivalent, change my mind), I've still got an appreciation for the sugar-filled, cherry topped beverage.
But no amount of enthusiasm could top that of the self-proclaimed Shirley Temple King, Leo Kelly, a 6-year-old super fan posting "brutally honest" reviews to Instagram under the fitting handle @theshirleytempleking. The adorable budding influencer has been sharing his  critiques -- at hotels, restaurants, and more -- since August 2019, but it was only until earlier this week that the internet took notice. 
The first grader-slash-drink critic has racked up an impressive 116k following (as of this writing) since his Longhorn Steakhouse review went viral on Twitter. "First of all, this is the biggest Shirley Temple I've ever seen in my life," he comments in the video. "So, that's good news. The bad news is there's no cherries." He scored the chain's attempt a mediocre five, earning him a reputation for bluntness.
"He's been ordering Shirley Temples from the age of 3 and always commented on them," Leo's father Tom told People. "We were on vacation at Gurney's in Newport, Rhode Island, when Leo ordered a Shirley Temple at the pool and said 'Dad I think I have an idea'... and the rest is history."
While Leo's highest Shirley Temple rating to date is a 9.5, he dished on the perfect formula: "three to four ice cubes, glass cup, a whole can of ginger ale, just enough grenadine, three cherries, and an extra-long straw." Take note, mixologists.
h/t People
Sign up here for our daily Thrillist email and subscribe here for our YouTube channel to get your fix of the best in food/drink/fun.
Megan Schaltegger is a staff writer at Thrillist. Follow her @MegSchaltegger.