This Side-Facing Apple Charger Solves Your Macbook Plug Problem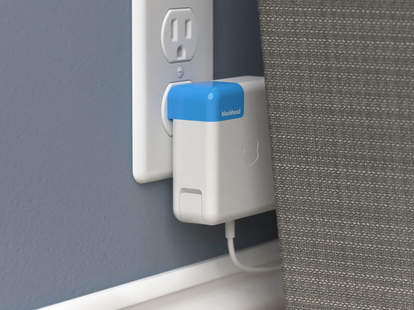 Let's be real: for as terrific as the design of a MacBook is, the wall charger is terrible. It's this cumbersome, top-heavy block that wants to fall out of the wall at the drop of a fart. And if you're in a tight squeeze, it's not gonna cooperate.
Finally, somebody solved that problem.
The Blockhead is a side-facing plug for your Apple charger that stays flat against the wall. Behold!
Blockhead
Not only does this plug keep your charger from falling out of the wall, it also protects against cord stress by directing the cord downward, and can fit snugly behind a chair.
This game-changing device can be purchased here and will cost you $19.95 for one, or $34.94 for two.
It really makes you wonder why Apple didn't just make them this way to begin with.
Sign up here for our daily Thrillist email, and get your fix of the best in food/drink/fun.
Kara King is a News Writer at Thrillist and is getting one of these. Send news tips to news@thrillist.com and follow her at @karatillie.