Sierra Nevada Is Recalling Beer for a Pretty Alarming Reason
Beer drinkers and beer makers like Sierra Nevada's Pale Ale for its refreshing, hoppy flavor profile, overall quality, and because you can buy it almost anywhere. But if you recently picked up, say, a six-pack of the sudsy stuff, there's a slight chance it could contain a less than delicious ingredient: glass shards.
In a statement issued on Sunday, Sierra Nevada announced it is recalling eight types of its beers due to a packaging flaw that could result in a loss of carbonation and, most importantly, hazardous pieces of glass to break off into 12oz bottles. Although the company said it detected the issue in a "very limited number of bottles," it is recalling beers that were packaged between Dec. 5, 2016 and Jan. 13, 2017 and were sold in 36 states across the East Coast, South, and Midwest. 
"While we believe this concern impacts roughly 1 in every 10,000 (0.01%) of our bottles packaged during this time, Sierra Nevada has set the standard for quality in the craft brewing industry since 1980 and we have decided to take this precaution to ensure the safety of our consumers," the company said in the statement. So far, it hasn't received any reports of injuries.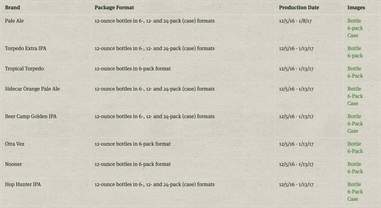 Sierra Nevada
Beers impacted by the recall include Sierra Nevada's Pale Ale, Hop Hunter IPA, Nooner, and a handful of others. Thankfully, the company posted a helpful chart (shown above), the full list of states included in the recall, and additional details on how to identify the affected beer on its website. As expected, Sierra Nevada is warning consumers not to drink the beer (dispose of it), and said it will compensate customers for the full purchase price they paid for it.
Sign up here for our daily Thrillist email, and get your fix of the best in food/drink/fun.
Tony Merevick is Cities News Editor at Thrillist and could use a beer right about now, you know, because it's Monday. Send news tips to news@thrillist.com and follow him on Twitter @tonymerevick.