Guys Are Confessing Their Laziest & Most Pathetic 'Single Man' Meals and Just Wow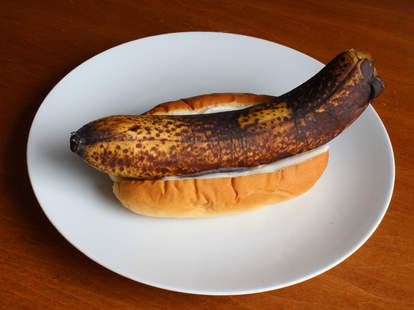 It's a well-worn cliché to criticize single guys for being lazy cooks who keep nothing but condiments and beer in their refrigerators, and feast only on the leftover pizza, Chinese food, or stale cereal they can scrounge together when it's time to eat. C'mon, plenty of dudes are into cooking, or at least have enough self-respect to fix themselves something semi-nutritious when they're hungry.
But some single men couldn't care less about thoughtful meal prep planning, and are perfectly fine feasting on scraps if need be. In case you aren't convinced that's the case, many of them recently took to Reddit to reveal the most depressing and pathetic "single man" meals they've ever made, and hoo boy, the confessions are equal parts sad and hilarious.
Posting in the Askmen subreddit, user JOETHERMAPHRO posed the question "What's the most depressing, single man meal you've made?" and in just one day, over 1,100 users have commented on the thread so far with examples ranging from the truly sad and deplorable to downright confounding. We've rounded up some of our favorites below, but fair warning: read on at your own risk if doing so while eating.
Truly disgusting rice concoctions are among the most common confessions.
Mmmmmm...fish and oatmeal.
Hot dog buns filled with questionable ingredients are evidently also a go-to.
You really owe it to yourself to browse the full thread, which is full of gross gems. And while most of the bad bachelor meals are objectively abhorrent, it's true that necessity is the mother of invention, and you never know when one a desperately lazy search for a snack could end up resulting to a truly delicious discovery.
h/t Mel Magazine
Sign up here for our daily Thrillist email and subscribe here for our YouTube channel to get your fix of the best in food/drink/fun.